Live to Make Music
The R12 is made for musicians who live to make music. And they want the freedom to make music wherever they go.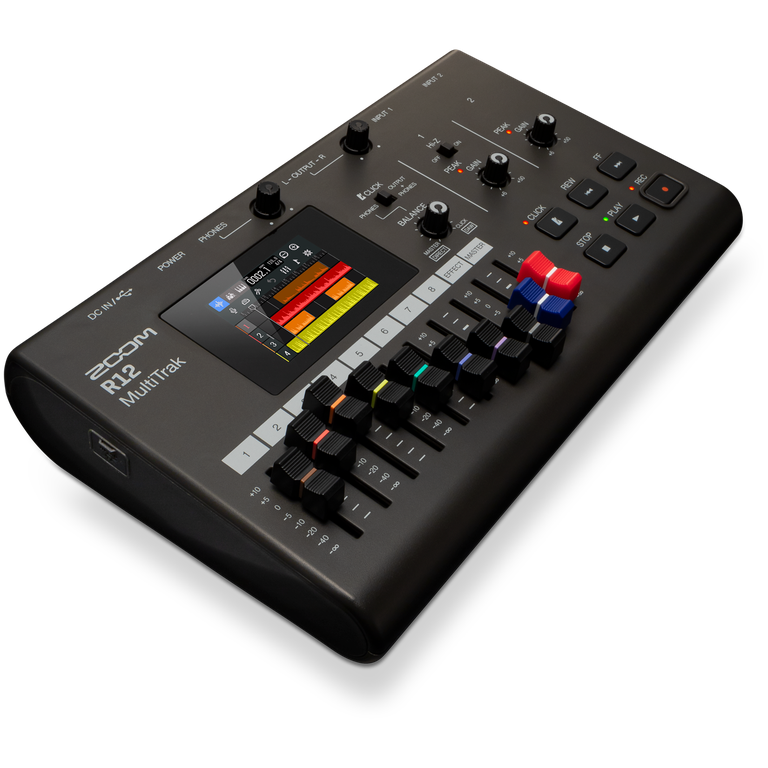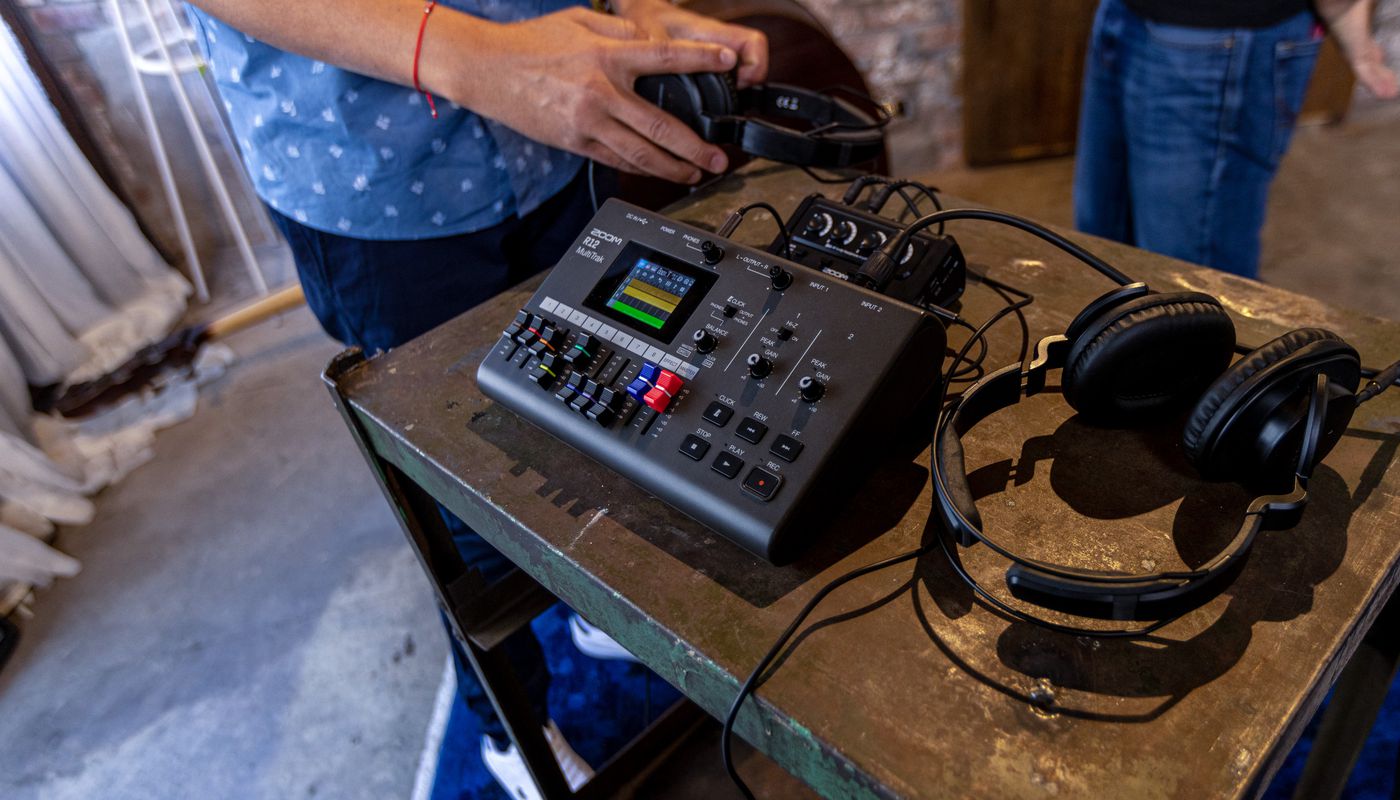 All You Need On-Board
Compact and mobile, you can record and mix songs without a computer. Use the R12's full-color LCD touchscreen to cut, copy, loop, and edit your tracks.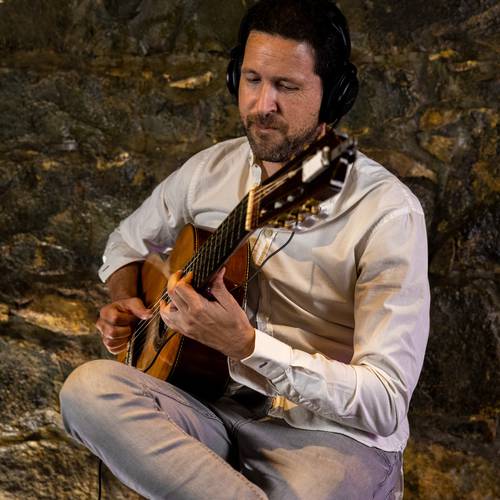 Amazing Sound
The R12 has super-clean preamps and you'll love the way they sound. With two XLR/TRS inputs, and 8 tracks of audio, the R12 is perfect for recording everything from demos to release-ready songs.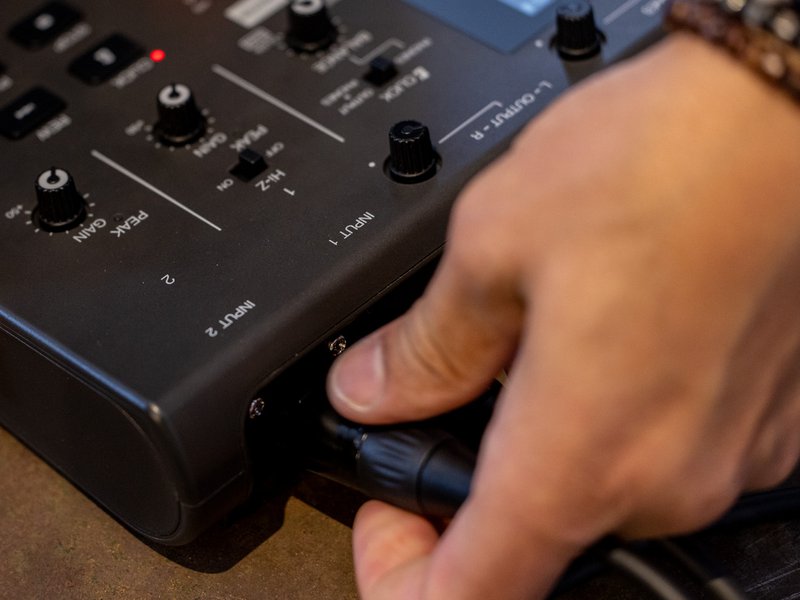 Right: Guitarist Roman Lajara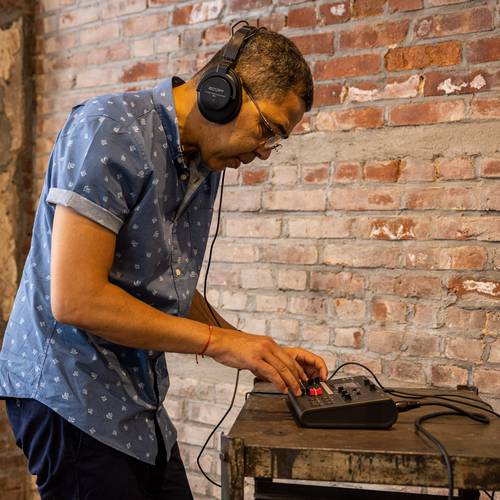 Fully Loaded
The R12 includes a send effects channel offering reverb, chorus and delay with a dedicated effects return fader. For advanced tones, you can use presets and effects from Zoom's Guitar Lab.

The R12 also has pan and a 3-band EQ for each track and a compressor on inputs 1 and 2.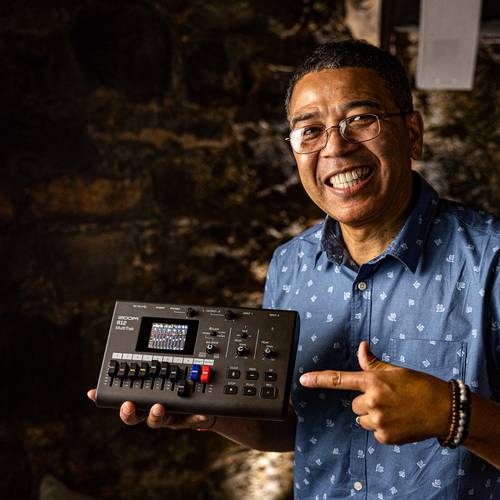 Take It Everywhere
The R12 provides up to 5 hours on four AA batteries allowing you to bring your production anywhere. Additionally, you can use the R12 with the included AD-17 power adapter, or a USB battery.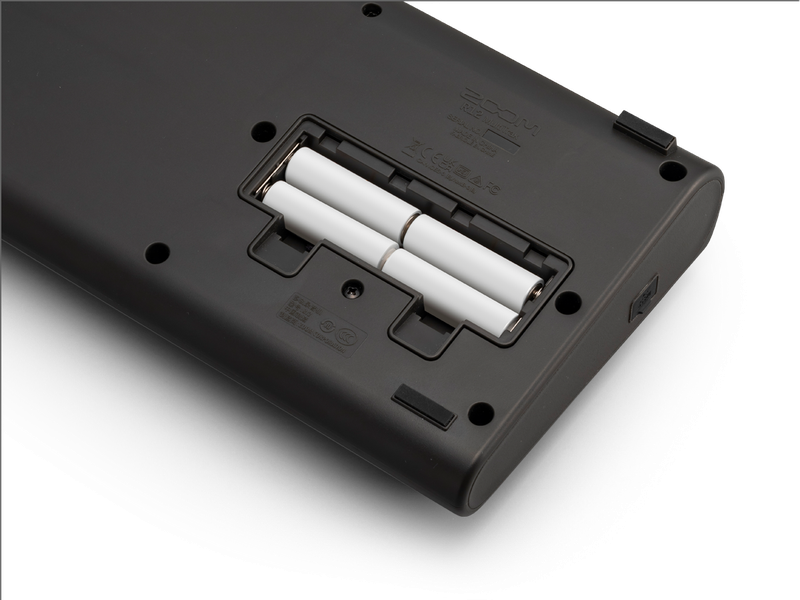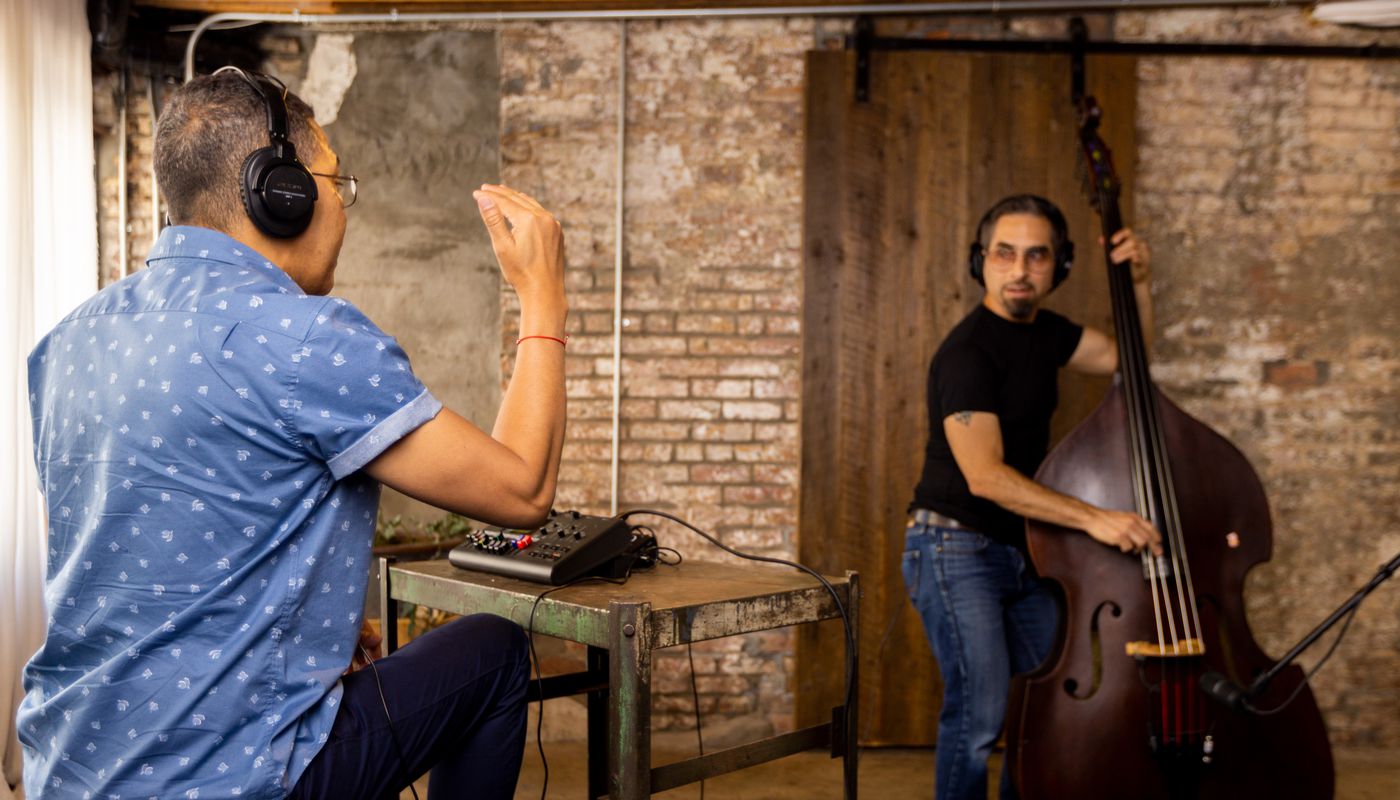 Playback. Play Along.
Use Sequence Play to create a playlist of your projects. Then use them as backing tracks, whether you're playing live or rehearsing a set.



Luisito Quintero recording Bassist, Gabriel Vivas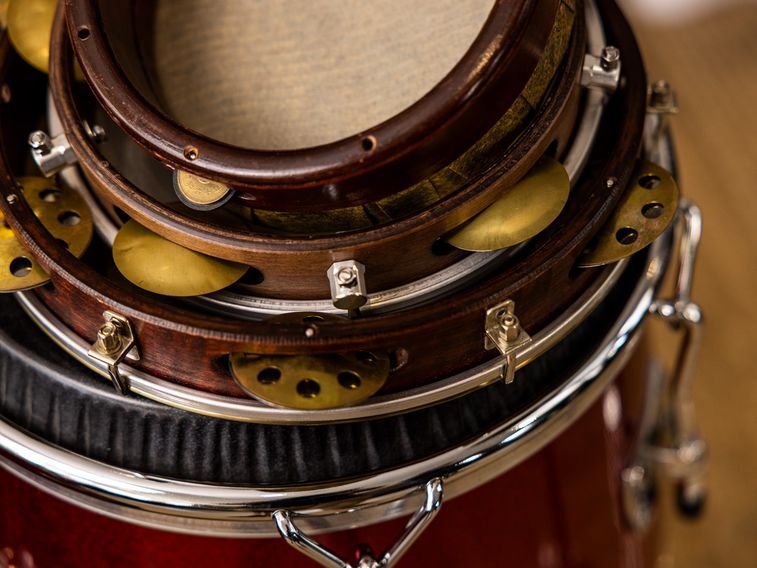 It Starts With
a Groove
With 150 preloaded drum loops in a variety of patterns and genres, the R12 provides a versatile rhythm section for any project.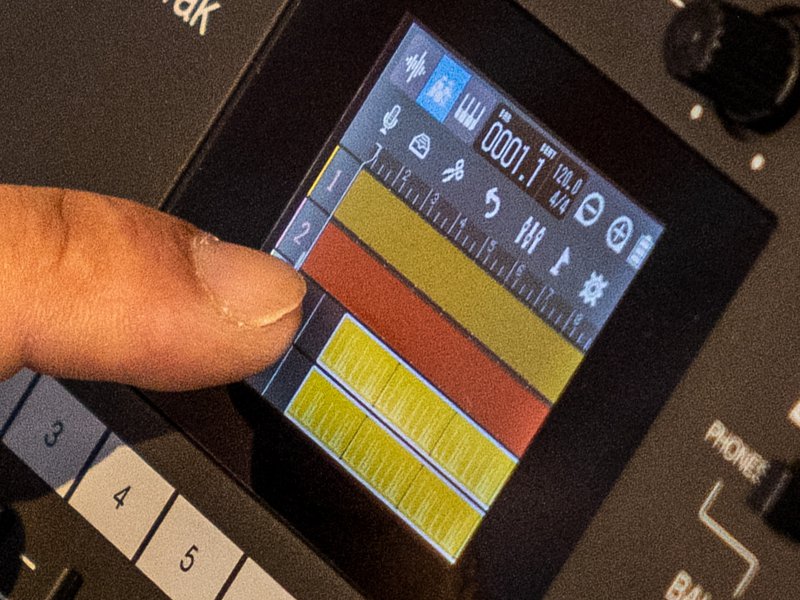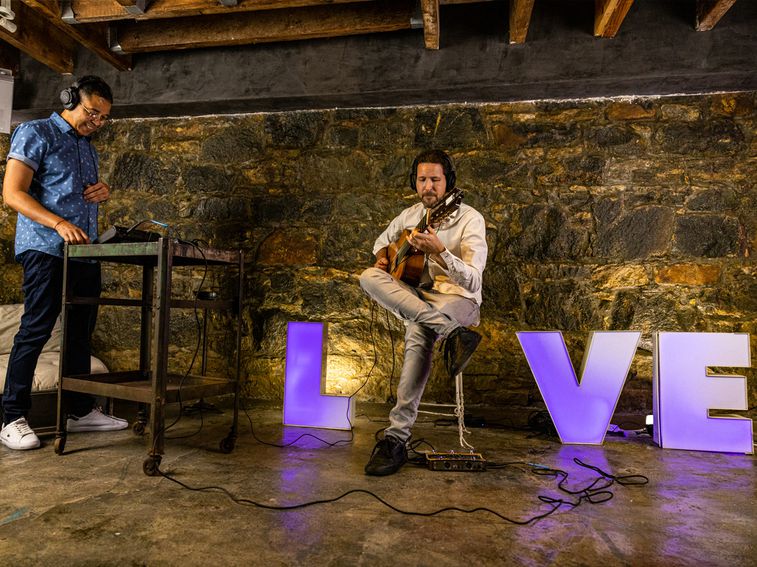 Import Audio Files
Add additional audio samples by importing files into your R12 via Micro SD card or USB thumb drive.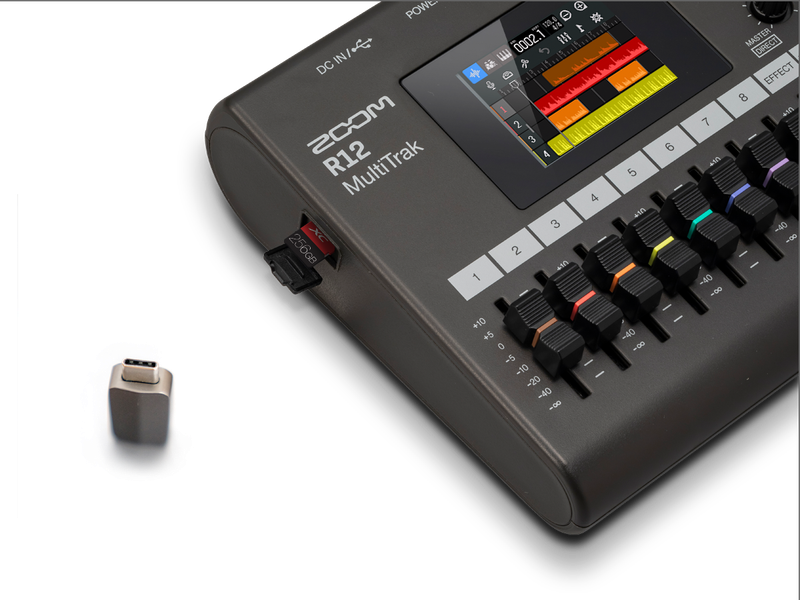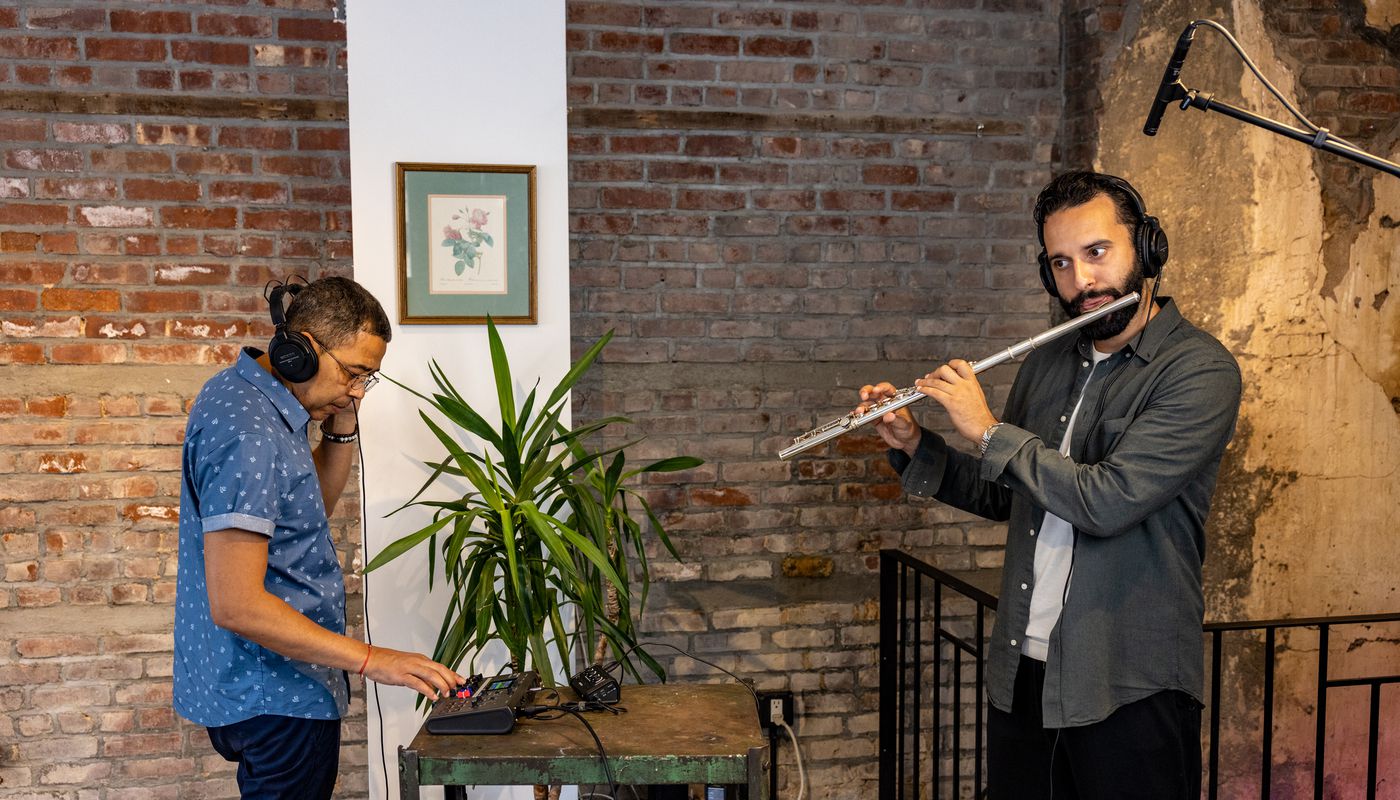 From Headphones to Monitors
The R12 includes an ⅛" stereo headphone jack as well as dedicated ¼" monitor outputs.



Luisito with Flautist, Jeremy Bosch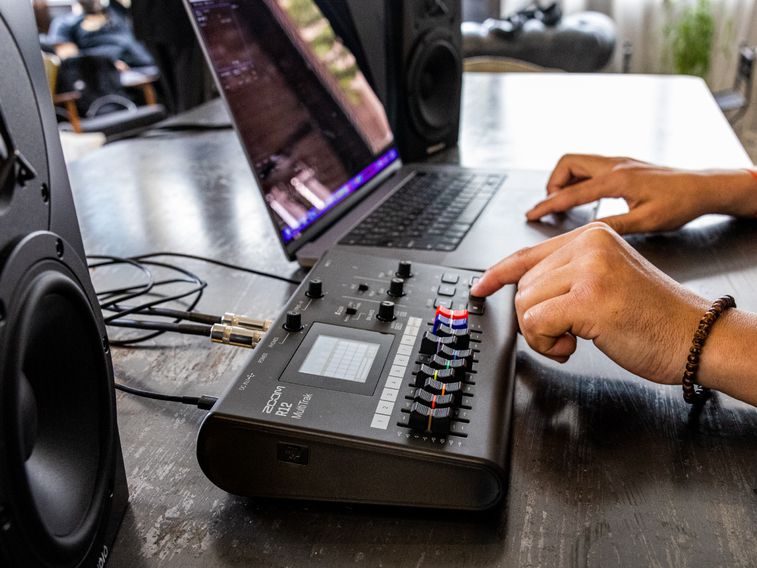 Interface + Control Surface
Use the R12 as a stereo audio interface with your favorite DAW or streaming platform, via USB-C. As a control surface, the transport controls and faders make it easy to adjust and control your software during production.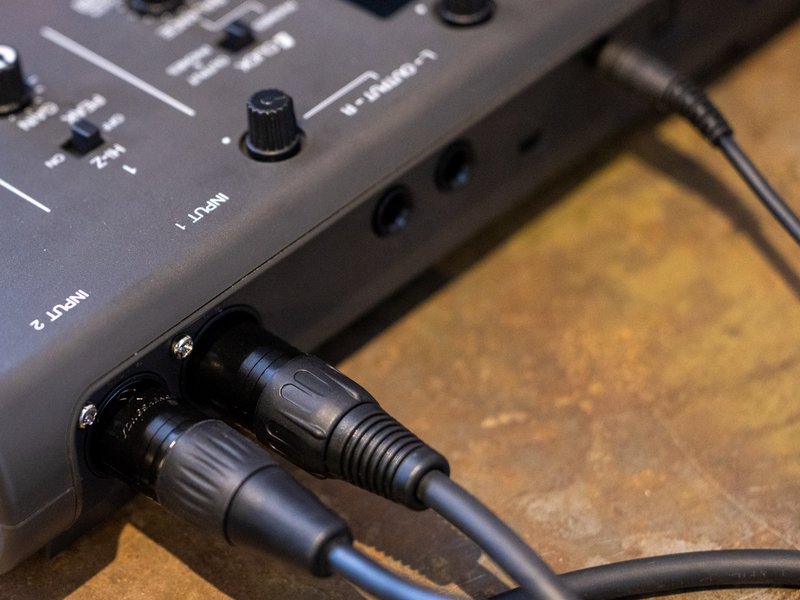 Connections
Connect microphones, instruments or line level devices like keyboards, mixers and more.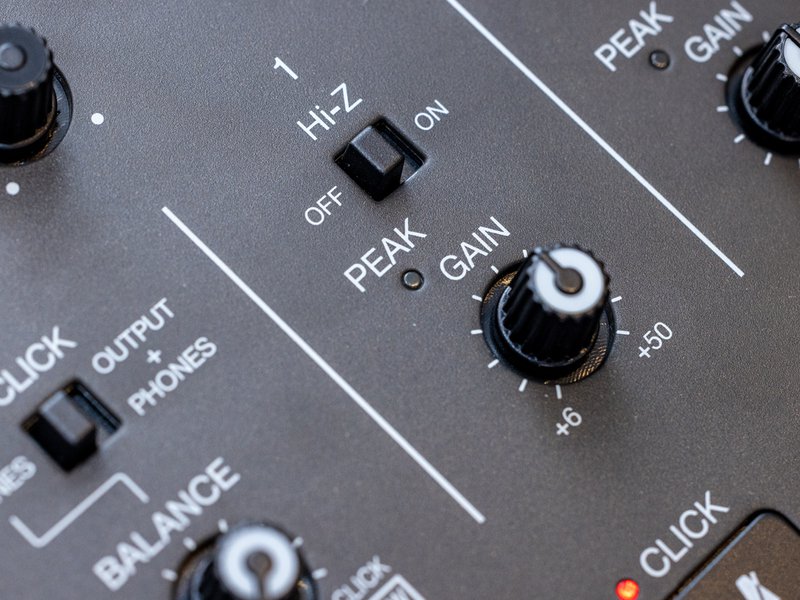 Hi-Z
Input 1 on the R12 has a Hi-Z switch, allowing you to plug your guitar directly into the recorder.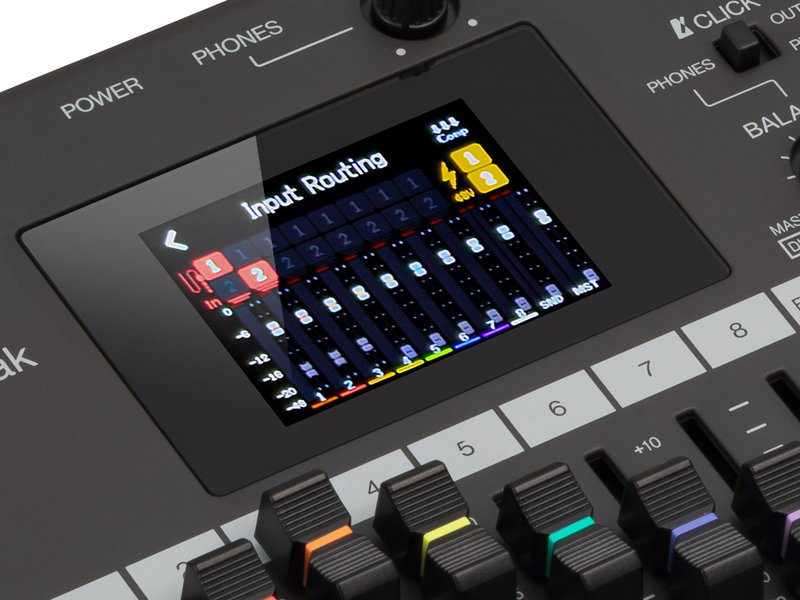 Phantom Power
Both inputs on the R12 offer 48V Phantom Power for condenser microphones.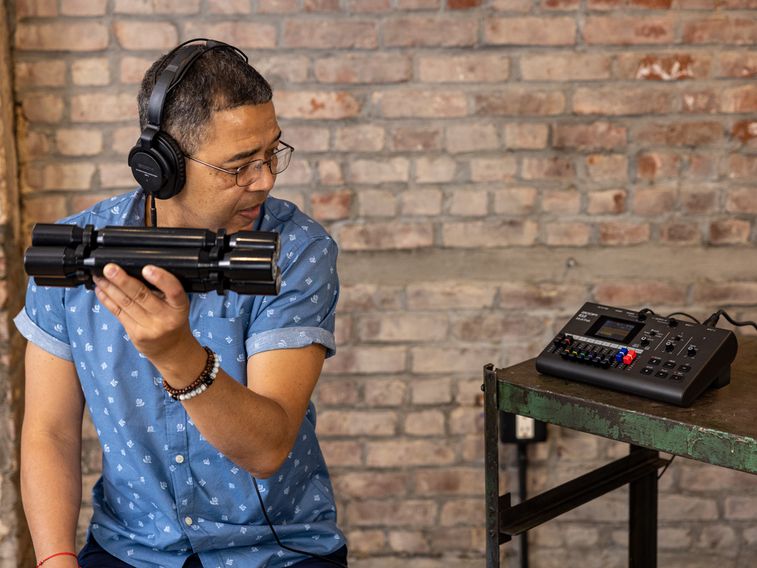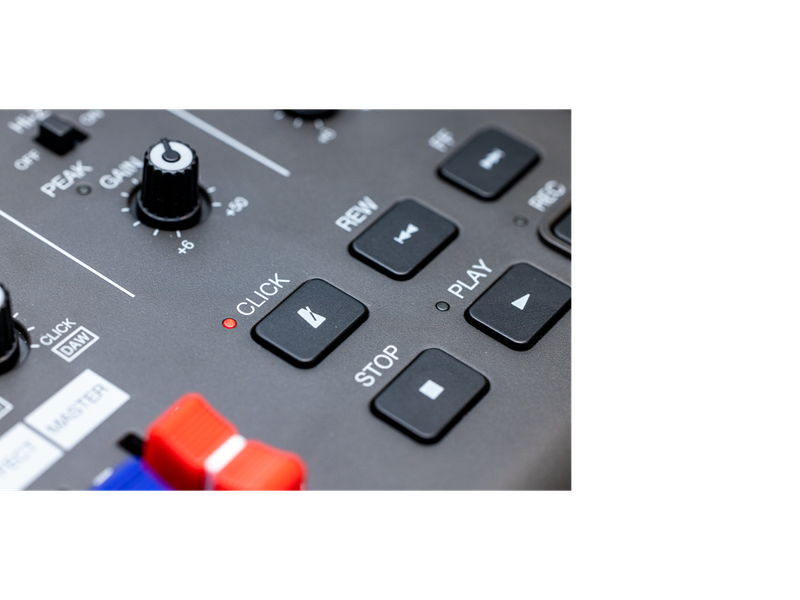 STAY IN TIME.
EVERY TIME.
Activate the fully customizable click track with the press of a button. Click balance blends the metronome with your playback audio and routes it to your headphones and/or the main outputs.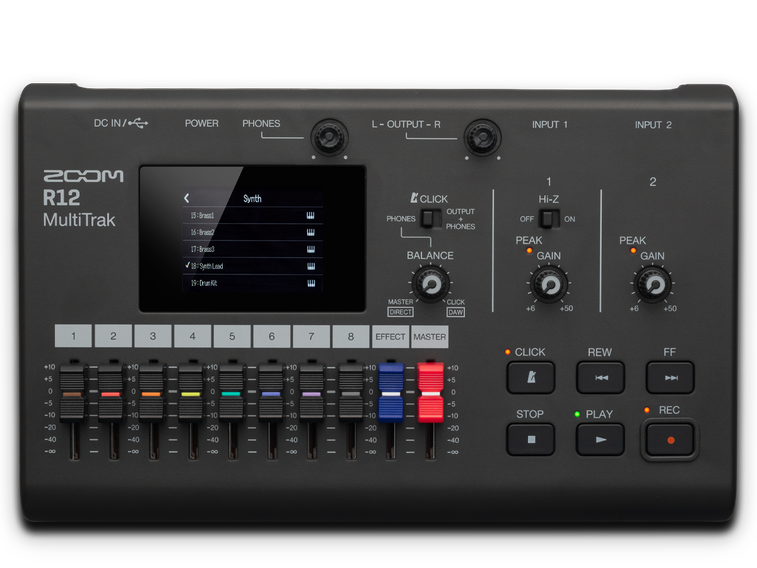 ADD SOME SYNTH
The R12 has 18 FM synth instruments built in. They can be played by plugging in a MIDI keyboard via USB-C or programmed using the touchscreen.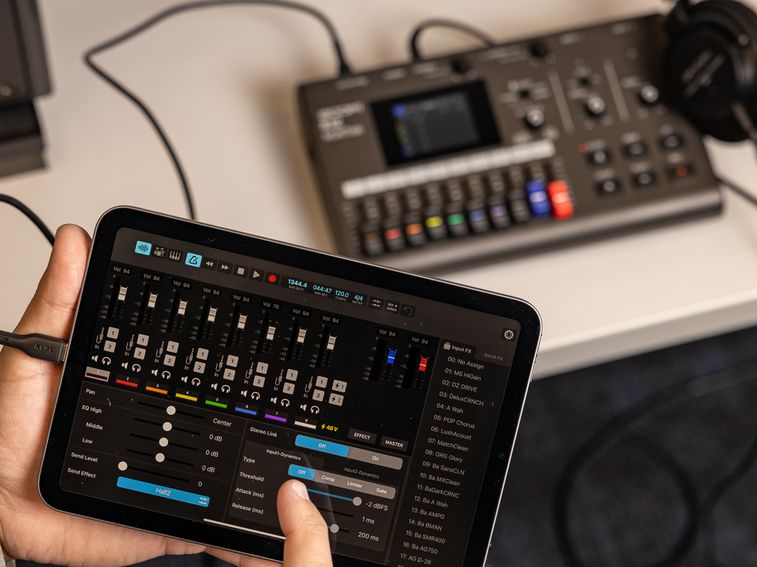 R12 Control App for iPad
The R12 Control App allows you to mix your recording sessions, adjust effects, manage playlists, and change project and system settings*. It's perfect for when you want an extra display to make adjustments more quickly.

Accessibility for the Visually Impaired
The R12 Control App provides accessibility for the visually impaired, utilizing VoiceOver and VoiceOver Gestures.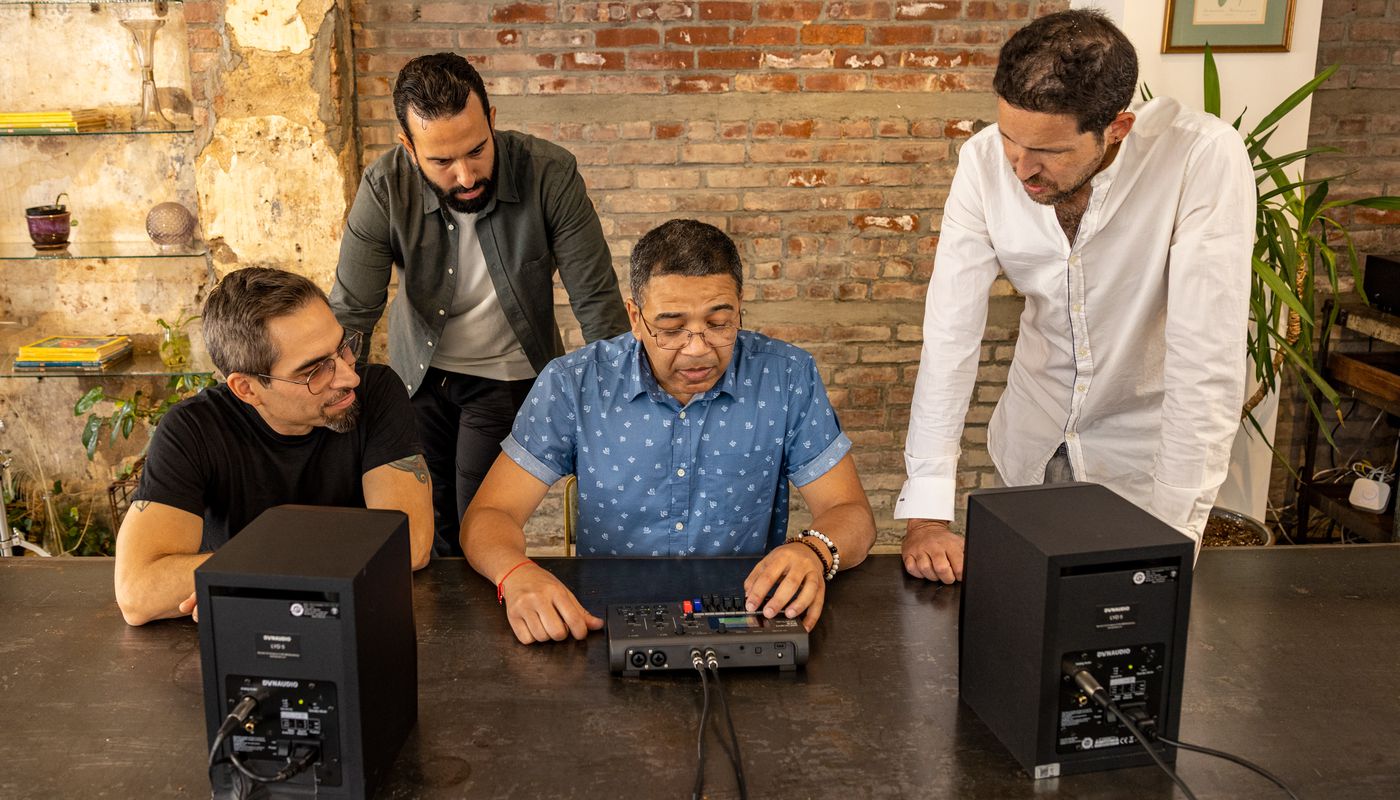 The R12. For Musicians Who Live to Make Music.
What's In The Box
R12 MultiTrak
AD-17 AC Adapter
USB Cable
Quick Tour
Optional Accessories
SCU-40 Universal Soft Shell Case
CBA-96 Creator Bag
ZDM-1 Dynamic Microphone
ZPC-1 Pencil Condenser Microphones
XLR-4c/CP XLR Mic Cables with Color ID Rings
ZHA-4 Handy Headphone Amplifier