Intuitive Multi-Effects Processors for Guitarists
If you're a guitarist, you know how important it is to have the freedom and flexibility to create your own sound. The Zoom G3n / G3Xn Multi-Effects Processors remove any barriers in your way.
The G3n is a genre-defying multi-effects processor that gives you the versatility you need to experiment with new sounds and playing styles. Its built-in expression pedal(G3Xn), 80 second Looper, faithful amp and cabinet emulators, and extensive selection of effects and patches make it an essential addition to any pedalboard. With the G3Xn, breaking boundaries and achieving great sound has never been easier.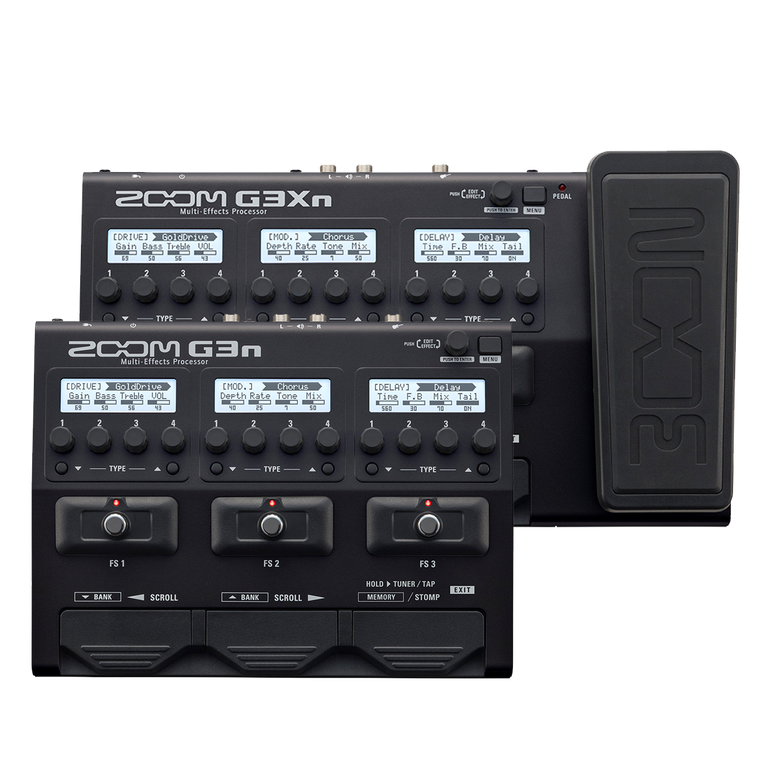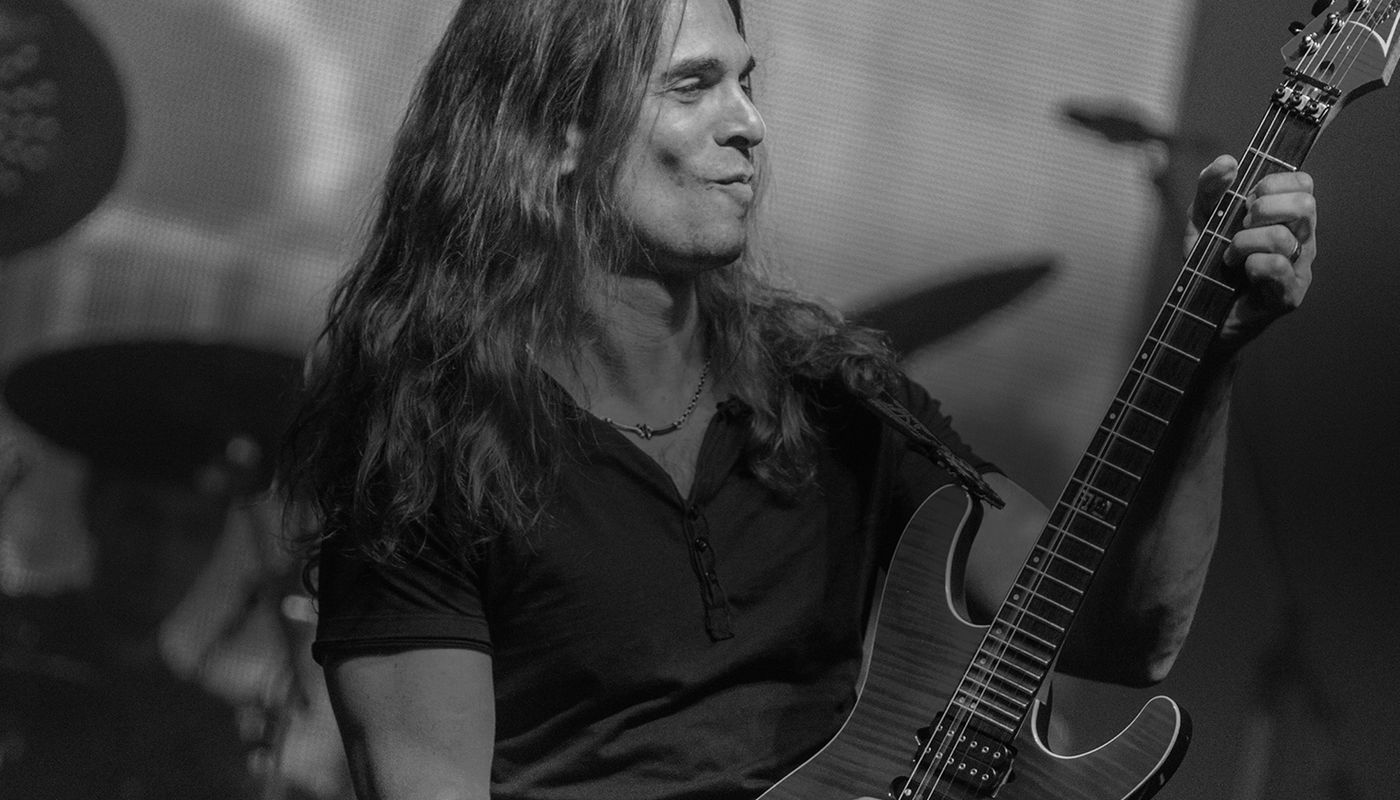 Boutique Pedals, Legendary Amps, and Superior Effects
The G3n / G3Xn (ver 2.0) is pre-loaded with 127 expertly crafted and assembled DSP effects (125 effects, 1 looper pedal, and 1 rhythm pedal), plus 32 of the most realistic amp/cabinet emulators we've ever created. We've loaded the G3n and G3Xn with essential guitar sounds like overdrive, distortion, compression, EQ, delay, reverb, flanging, phasing, vibrato, and chorusing. Unique multi-effects such as Seq Filter, Reverse Delay, HD Hall, and OSC Echo are also included.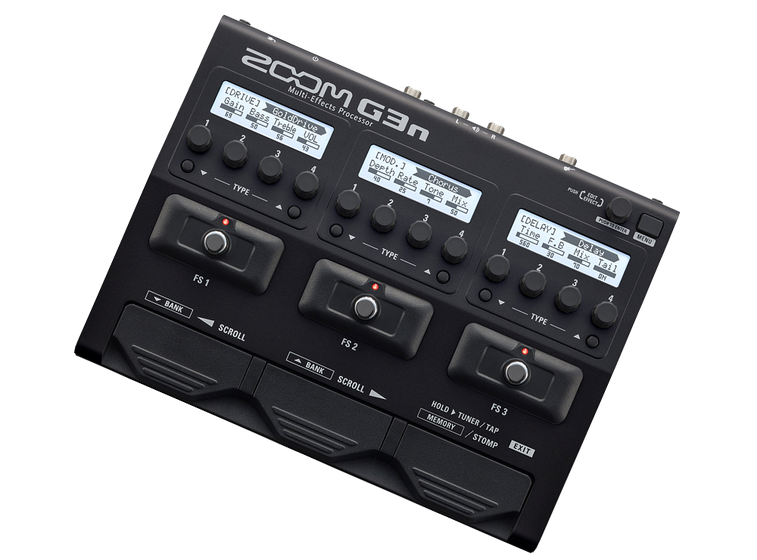 Create Complex Signal Chains
Use up to seven effects and amp/cabinet models simultaneously, chained together in any order you like. It's like having hundreds of fully loaded pedalboards all in one compact and easy-to-use device.
Accurate, Realistic Amp and Cabinet Emulation
Choose from 16 classic amp models and adjust the sound exactly as you would with the knobs and switches of the real thing—and then pair your amp with one of the 16 new cabinet emulators to complete the sound.


Plus, you can download even more faithfully recreated amp/cabinet combinations such as Fender Bassman, Hi-Watt Custom 100, Mesa Boogie Dual Rectifier Orange Channel, Fender '65 Deluxe Reverb, and Orange Graphic120—available now with more being released every month.
NOTE: Manufacturer names and product names are trademarks or registered trademarks of their respective owners. The names are used only to illustrate sonic characteristics and do not indicate any affiliation with the Zoom Corporation or Zoom North America.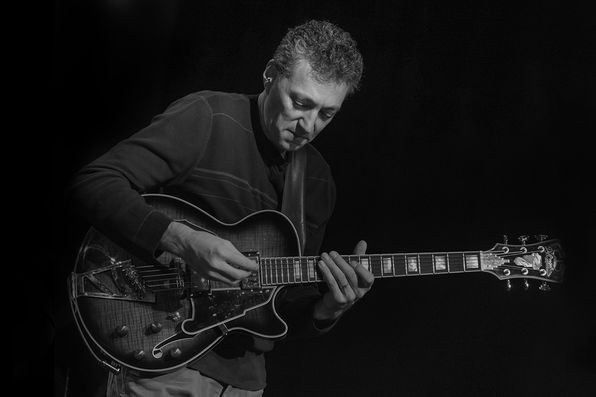 75 Custom-Crafted Patches and Counting
Recreate essential guitar tones and pioneer new territory with 75 custom-designed patches created exclusively by Zoom guitarists. Use these patches to emulate the iconic sounds of Eddie Van Halen, Jimi Hendrix, Jimmy Page, Carlos Santana, Michael Schenker, and Brian May or explore something completely brand new. 
With our free ZOOM Guitar Lab software, you can look for new effects and amp/cabinet emulators, and add new, exclusive patches from our diverse and growing list of creators, including:
Kyle Bolden (Stevie Wonder)
Eric Struthers (Aaron Neville)
Allen Epley (The Life and Times, Shiner)
Richard Patrick (Filter)
Jeff Schroeder (Smashing Pumpkins)
Andrew Elstner (Torche, Tilts, Riddle of Steel)
Christophe Godin (Mörglbl)
Luca Colombo
Vinny Valentino (Steve Smith & Vital Information)
Kiko Loureiro (Megadeth)
Tommy Bolan (NYC, Banzai, Warlock)
Ozielzinho
Paul Reid
Ludovico Vagnone
Chris Rosenau (Volcano Choir)
Mark Waldrop (The Digital Age)
Errol Cooney (Christina Aguilera, Stevie Wonder)
Wes Geer (Korn, hed PE)
Adam Hawley (Joss Stone)
Chuck Loeb (Fourplay)
Dan Spack (Volcano Choir)
Craig Wedren (Shudder To Think)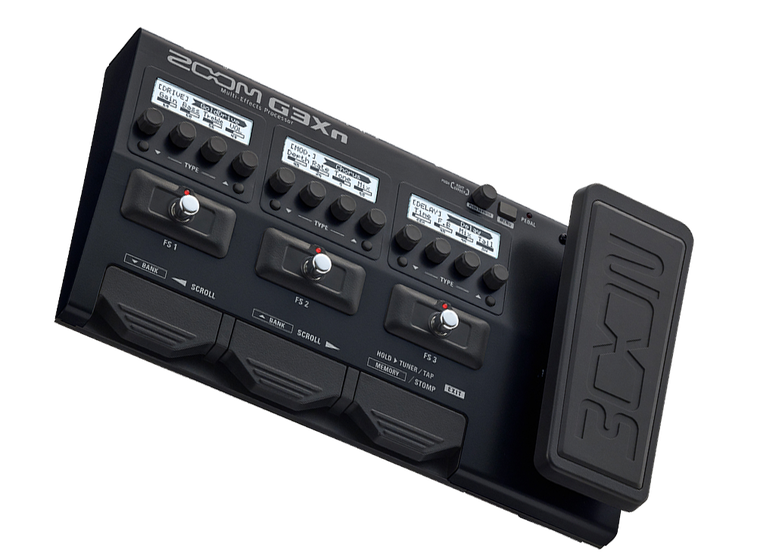 Fast and Intuitive Editing
The G3n/G3Xn's switches and knobs give you enhanced control and have the responsive, hands-on feel of a standard stompbox. The G3n/G3Xn combines three LCD displays to show whole effect-chains at a glance, making it easy to add, delete, or change the order of effects quickly. Plus, you can store up to 150 of your custom effects-chains as patches.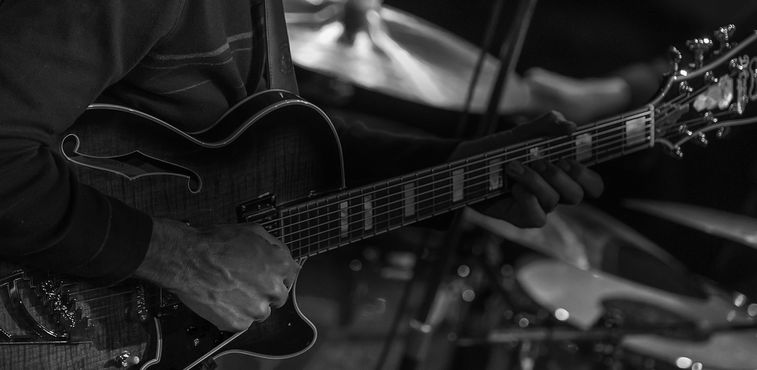 Practice and Perform
There are 68 built-in rhythm patterns included with the G3Xn, making it the perfect practice rig and enabling "one-man band" performances.
An onboard Looper (which can be used with the rhythm patterns) allows you to record and overdub phrases up to 80 seconds long through the effects of your choice.
A built-in chromatic tuner lets you bypass the currently selected patch while tuning, or mute the signal altogether.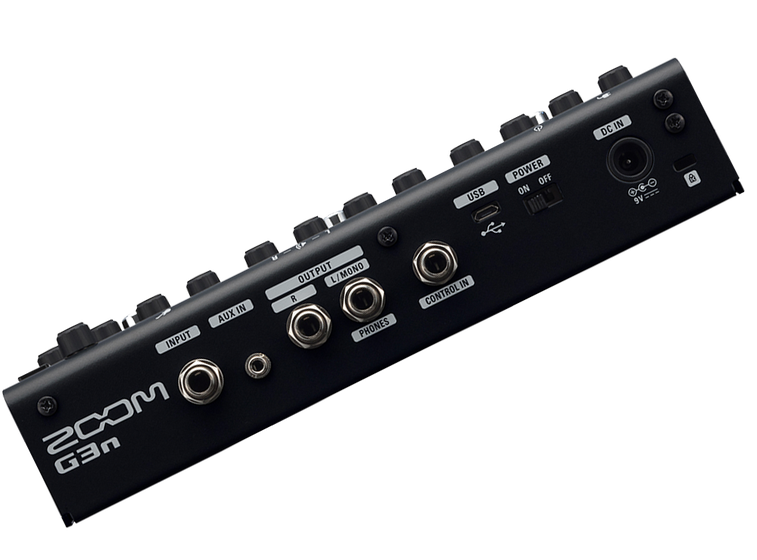 Inputs and Outputs
The G3n can be easily integrated into any live performance or studio rig. In addition to a standard guitar input, there's an auxiliary stereo input for connecting smartphones or music players. It also includes a dedicated headphone jack for practice and dual outputs for mono or stereo L/R connection to guitar amps, PA systems, and audio interfaces.
The Mic On/Off feature lets you optimize the G3n for use with a real amp and cabinet (Mic Off) as well as optimize for playing through a PA system or recording direct with amp and cabinet emulators (Mic On).
ZOOM Guitar Lab Software
With the new Guitar Lab app for Mac/Windows, you have access to Zoom's library of amp models, effects and patches. A one-stop shop for effects management, users can easily edit effect parameters, build effect chains, and backup/organize their patches. Guitar Lab's advanced UI monitors your CPU usage while you edit for maximum efficiency. For user convenience, the new Clipboard function memorizes up to four effects with custom parameters, so you can copy and paste them onto other patches. Finally, the NEWS section contains newly added effects and patches, as well as demo sounds, all available for download directly from the app.
Download ZOOM Guitar Lab.

Accessories
Accessories
Here's what comes included with the G3n:
Operation manual
Zoom AD-16 AC adapter
Optional G3n accessories: