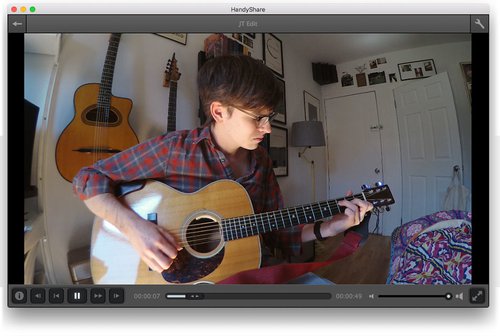 HandyShare is a free video editing application for Zoom's Q-series Handy Video Cameras. HandyShare will auto-start when your Q-series is connected to Mac/PC and provide support for 4K video and real-time preview of your edits.

Handy Video Cameras: Q8, Q4n, Q2n and Q2n-4K

Windows Compatibility: Windows 10 / 11
Mac Compatibility: macOS 10.15 ~ 12
---
Free to Download
Zoom HandyShare is completely free to download right from our website. Simply click on the link below that matches your operating system, download, and install to begin creating and sharing your videos.
---
Manage and Organize Audio/Video Files
A new Library feature lets you view, manage, and organize all your audio and video files from within the HandyShare app, no matter where they're stored on your computer.  You can also organize files into folders and playlists.

---
Easy Editing for Audio and Video
HandyShare 9.0 offers easy editing features for your camera's audio and video files. The software includes real-time video and audio previews, so you can review your edits before finalizing the video. Audio is displayed with a preview of its audio waveform, making it simple to edit. Plus, you can add a variety of effects like Reverb and Mastering to your audio from within the software

---
Video Sharing
If you're looking to share your videos on YouTube, you can simply drag a video from the HandyShare Library directly to YouTube's upload page to export and upload in a single step.