All-In-One Production and Live Performance Instrument
Making music should be fun, easy, and freeing. With the Zoom ARQ AR-48, it can be that and so much more.

The AR-48 lets you craft music you can be proud of. Use its 460 built-in sounds or use your own samples to create innovative beats and sequences. And its unique design gives you the freedom to perform in brand new ways.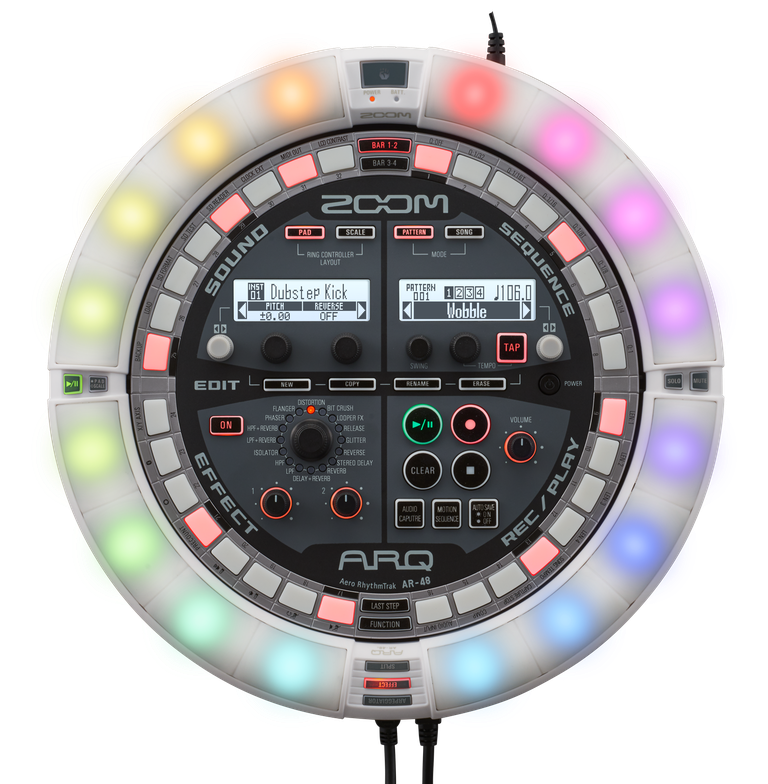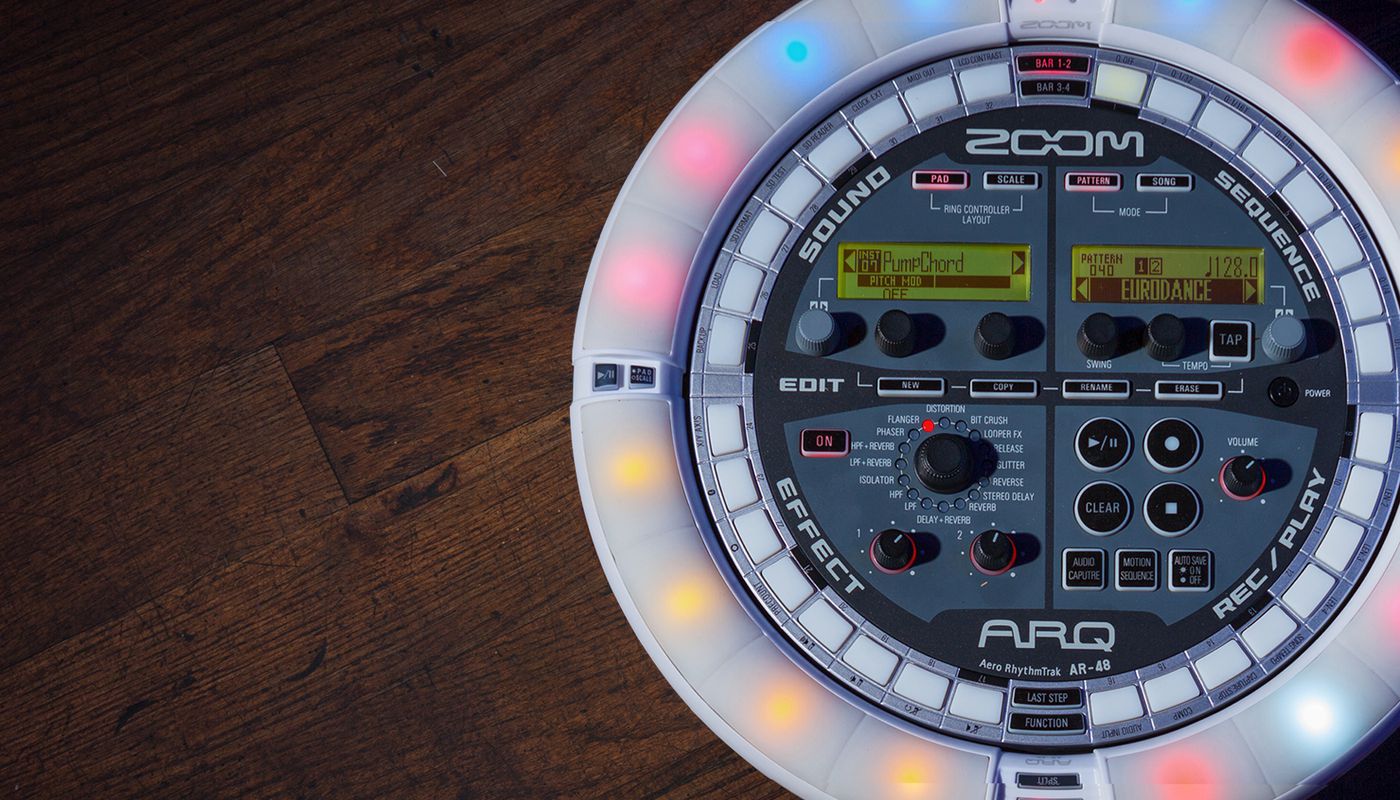 Create Your Own Music
You can load your own samples into ARQ or choose from its 460 drum, instrument, and vocal sounds. Explore a variety of genres—from hip hop and house to techno and dubstep—to craft the music you want.
Get Ready to Sequence
Capture what you're playing in real-time by hitting record. Or use the dedicated step-input buttons to quickly program a beat. Start with a kick and snare, then add hi-hats and toms. With the AR-48's unique design, it's easy to see your sequence as a true loop.
A New Way to Produce
The ARQ offers a variety of fun and exciting ways to produce and perform your music. You can play and remix your music live. You can also play over your patterns in real-time using the Ring Controller or use the MIDI out to control external instruments.
Sample Tracks and Play
With the AR-48's audio capture function, you can sample your favorite tracks and create beats around them to your liking.
Accelerate Your Performance
To create more expressive performances, remove the Ring from the Base Station and trigger delay, reverb, and filters effects with the accelerometer. You've never performed quite like this!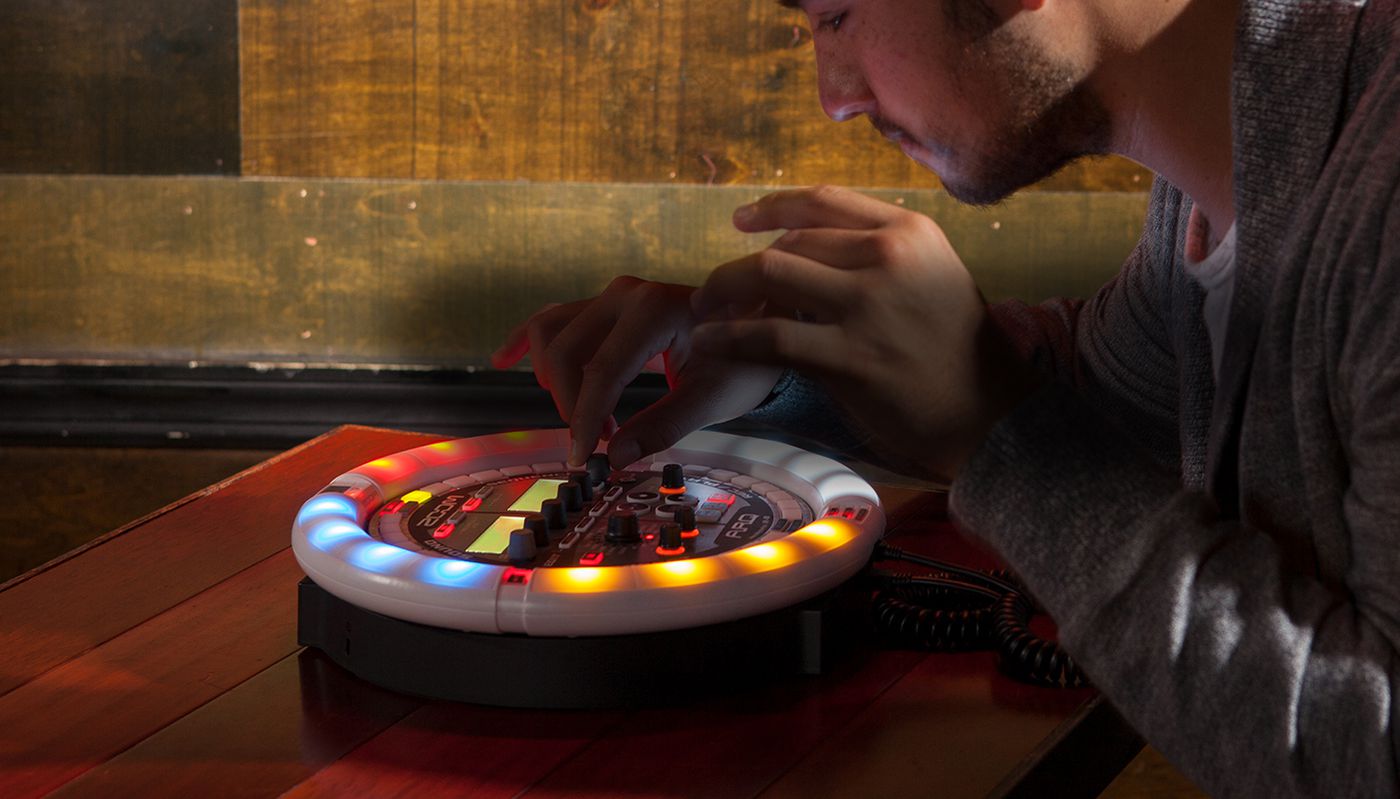 Craft new music with all hands on deck.
It's All About The Base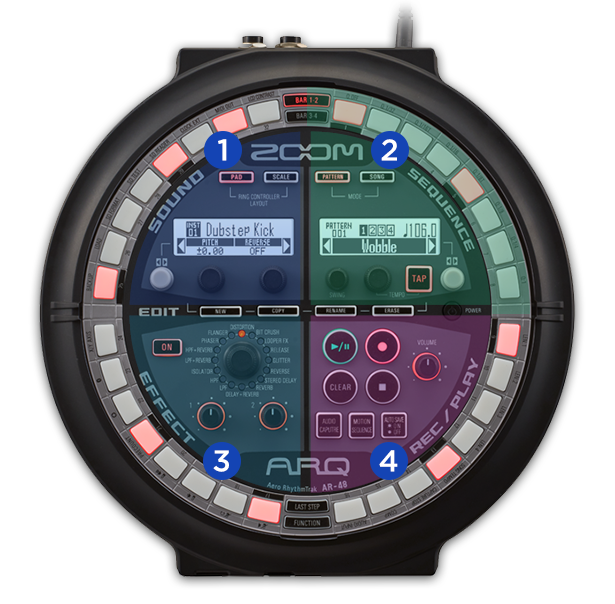 The Base Station is the control center of the AR-48. Let's explore how it works:

Sound ( 1 )
The Sound section features 460 customizable instrument sounds and a synthesizer with three sub-oscillators. Sound parameters can be changed instantly and are easily visible on the section's dedicated LCD screen.
Sequence ( 2 )
In the Sequence section, you can access and edit Songs or Pattern sequences, as well as save up to 384 patterns and 99 songs. Using the backlit LED buttons on the built-in 32-step loop sequencer, you can create musical patterns in real-time or add Swing or Tempo to any sequence of your choice.
Effect ( 3 )
The Effects section offers 16 Master Effects, including reverb, high- and low-pass filters, delay, bit crush, and more. Use them during song and pattern playback, in the studio, or during live performances.
Rec/Play ( 4 )
Record and save your music in seconds in the Rec/Play section. You can also use audio capture mode, record motion sequences, and save your work automatically
Get Into The Ring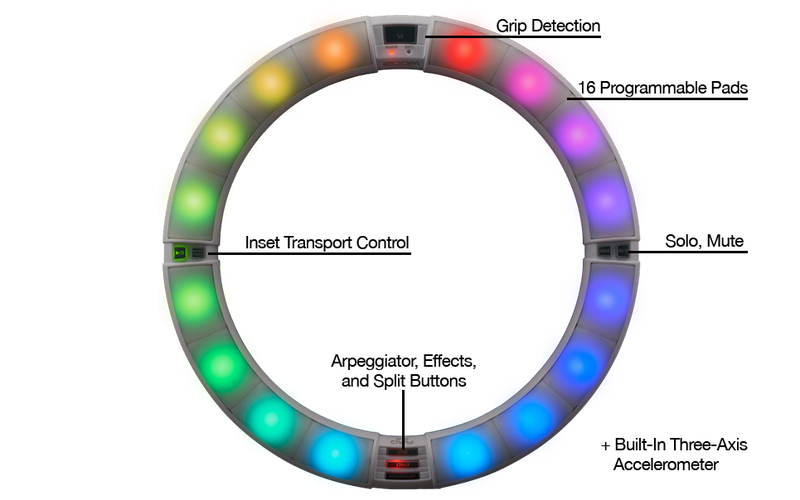 The AR-48's Ring Controller lets your personality shine through. Have a look at its features:
16 Programmable Pads
The ARQ features 16 pressure-sensitive pads with programmable LEDs that allow you to play instrument sounds, trigger samples, and record sequences.
3-Axis Accelerometer
With the 3-axis accelerometer, you can use movement to trigger effects like delay and reverb. Each axis can be assigned to adjust any of your chosen effects parameters.
Easy Controls
Dedicated buttons let you play/pause tracks, solo and mute sections, as well as split, arpeggiate, and change effects. You can also switch between PAD and SCALE layout using the Ring's dedicated buttons. The Grip Mode button prevents you from accidentally triggering pads when you pick up the Ring.
Optional Bluetooth Adapter
An optional BTA-1 Bluetooth adapter lets you use the Ring Controller wirelessly during live performances.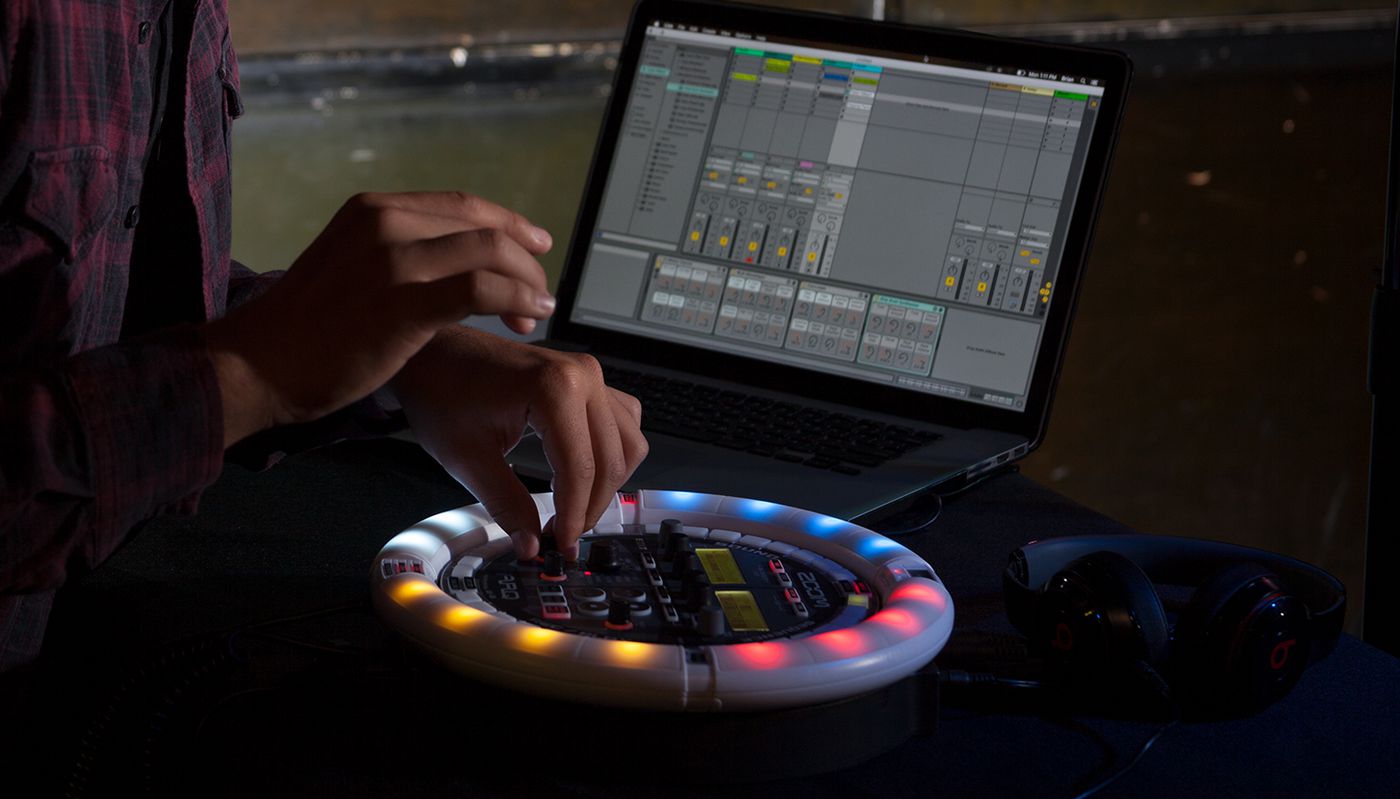 Create More with Ableton
Includes Ableton Live 9 Lite
With ARQ AR-48 and Ableton Live 9 Lite, you have everything a modern music creator needs. Record your tracks quickly and intuitively, enhancing them with studio-quality effects like EQ, compression, reverb, delay, chorus, filter, and more. Plus, Ableton's performance workflows let you take
your music to the stage where you can mix and record live.
Inputs and Outputs



The AR-48 features two ¼" stereo outputs, a 3.5 mm audio output, a 3.5 mm audio input, and a MIDI out. Additionally there's an SD card slot, an optional BTA-1 Bluetooth connector, and a USB port. You can assign parameters to the MIDI Out (via the USB-MIDI port) to integrate the AR-48 with a computer for recording with Ableton.

Accessories
Here's what comes included with the ARQ AR-48:
Base Station (AR-48)
Ring Controller (AR-48c)
AC adapter (AD-14)
Operation Manual
Optional Accessories:
BTA-1 Bluetooth LE Connector
Zoom Creator Bag (CBA-96)