There's a whole new world of possibilities for Mac and PC Creators — high-speed, high-resolution, and low-latency. Upgrade your rig with the rackmountable UAC-8, and add 18 inputs and 20 outputs to your USB 3.0-equipped Mac or Windows computer—even your iPad.* Plug in a microphone, line-level device, or instrument and start bringing your ideas to life, or take the UAC-8 onstage to enable high-res audio playback, all the way up to 24-bit/192 kHz. 
* Apple Camera Connection kit or Lightning to USB Camera Adapter required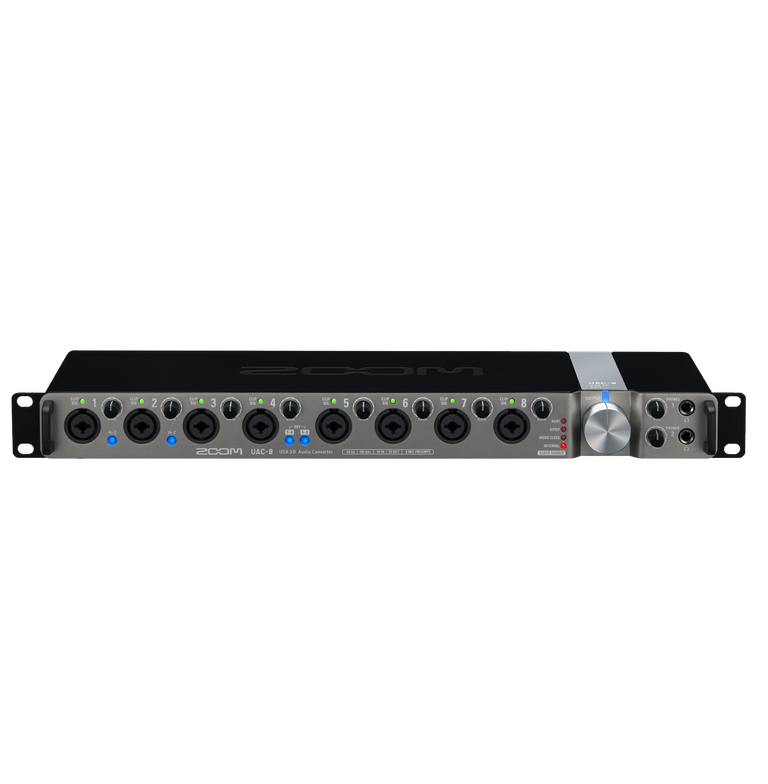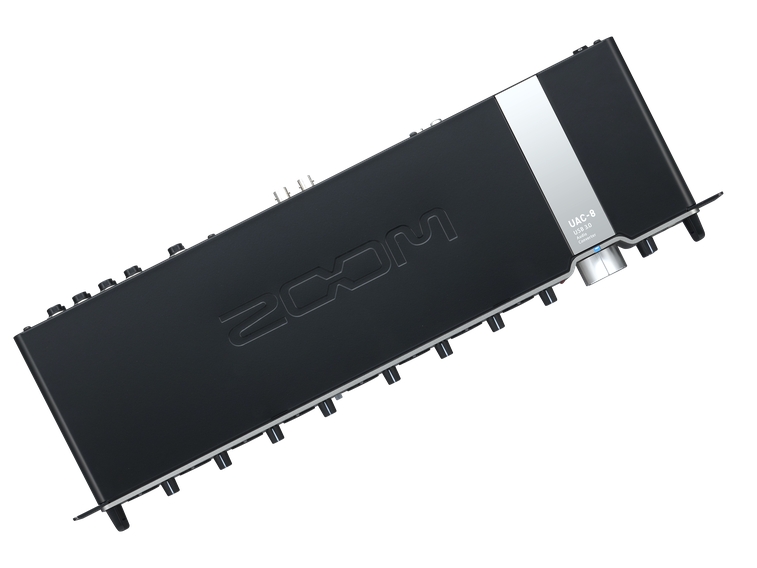 USB 3.0 SuperSpeed
The SuperSpeed USB 3.0 transfer protocol used by the UAC-8, with a speed of 2.0 ms roundtrip @ 96 kHz / 32 samples, is ten times faster than USB 2.0 and six times faster than FireWire 800. That not only ensures low latency, it provides a data stream that's unaffected by computer jitter (slight variations in timing), so there's no need to connect an external master clock source.
The Hardware
INPUTS
The UAC-8 provides a wide variety of both analog and digital connectors. 8 front panel combo XLR/TRS inputs accept mic- and line-level signals, and you can even plug instruments directly into Inputs 1 and 2. Dedicated input gain controls and Clip LEDs make it easy to set optimum input levels, and a Phantom Power switch enables the use of condenser microphones.
OUTPUTS
The UAC-8 has dual balanced analog TRS output jacks for connection to monitors, and there are also 8 discrete balanced TRS analog line outputs for multichannel monitoring or connection to external effects devices. A large front-panel Output knob offers fast control over output level, and there are two independent ¼" stereo headphone jacks, each with its own dedicated volume control, for private monitoring.
DIGITAL I/O
8 ADAT and stereo S/PDIF digital inputs/outputs allow for the connection of up to 10 external channels, and built-in Word Clock enables easy integration into any system. In addition, MIDI In and Out is provided to allow interfacing with devices such as electronic keyboards and drum machines.

Upsampling, Standalone Mode
The UAC-8 uses high-end components such as the AKM AK5388 analog-to-digital converter and AKM AK4413 digital-to-analog converter. In addition, the UAC-8 performs 4-times upsampling during both analog-to-digital and digital-to-analog conversion. In other words, when the sampling frequency is set to 44.1 kHz or 48 kHz, the UAC-8 processes the signal at high resolution 176.4 kHz or 192 kHz.
For A/D conversion, this means less aliasing noise; for D/A conversion, this means increased clarity and fidelity.
In standalone mode, the UAC-8 can be used as an 8-channel mic preamp and analog-to-digital or digital-to-analog converter without being connected to a computer.
Extend your capabilities with software
UAC-8 MixEfx is a free Macintosh and Windows compatible application designed specially by Zoom for the UAC-8. It provides a comprehensive onscreen mixer, with independent level, phase reversal, and panning control for each channel. UAC-8 MixEfx also allows you to freely route all inputs to all outputs and to create custom mixes. In addition, MixEfx features effects like reverb and echo, and complete mixes can be stored in three different memory slots, allowing instant recall.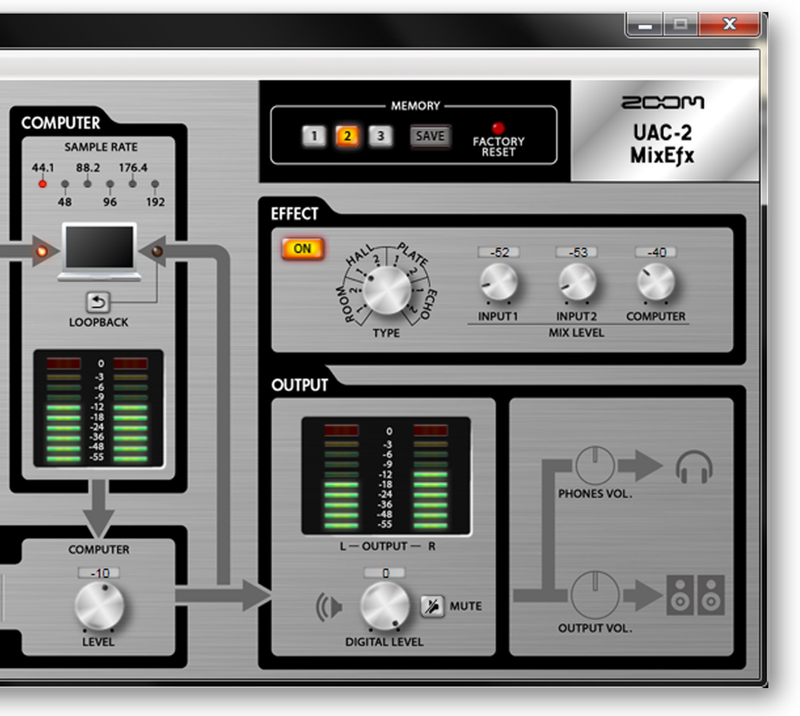 Download the UAC-8 MixEfx.

State of the art editing with every interface
The Zoom UAC-8 comes with a free download license for Steinberg's Cubase LE music production software, providing not just the ability to capture incredible high-resolution / low-latency audio in every box, but to do spectacular things with it.
Take your recordings to a more professional level. Steinberg's powerful and state-of-the-art audio software used by creators around the world now comes with every Zoom UAC-2 and UAC-8 purchase.
Currently shipping with:
Cubase LE8 for Mac OS X 10.9/10.10 and Windows 7/8/8.1.
For information on license activation and upgrades, visit our Steinberg Software support page.
Accessories
Here's what comes included with the UAC-8: 
Operation manual
USB 3.0 cable (1m)
Cubase LE download
Cubase LE startup guide