Creators are making more waves in film than ever before.  Thanks to affordable technology and distribution channels like YouTube, we're ushering in a new era of creativity…and it's only just begun.
The Zoom F4 propels your film's sound to a whole new level. With 6-input/8-track recording, super-low-noise mic preamps, and time code with pinpoint accuracy, the F4 offers Hollywood sound at an indie budget.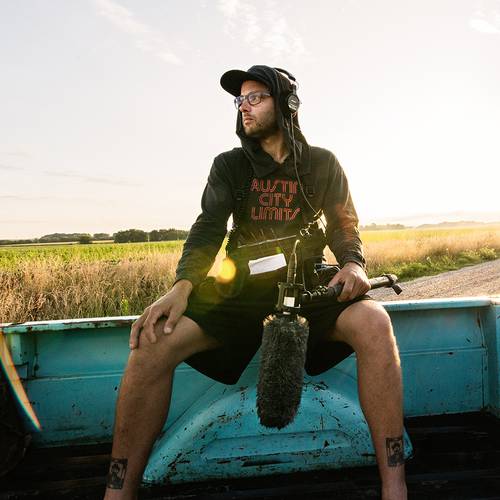 We didn't change the industry. You did.
By putting high-quality sound front and center, you've changed how audiences experience film. That's why we created the Zoom F4. So professional quality sound is always within reach.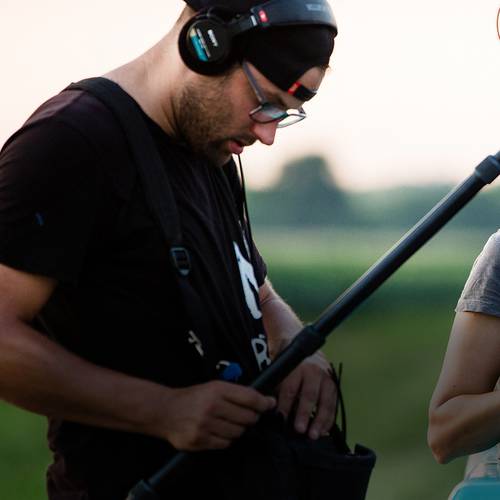 The F4 was designed with you in mind, at a price never before thought possible.

Super-low-noise microphone preamps
The F4 is equipped with our highest-quality mic preamps. Like the F8, the F4's mic preamps enable pristine recording and playback at resolutions up to 24-bit/192 kHz. Its impressive audio specs include an extremely low noise floor (-127 dBu EIN) and high gain (up to 75 dB), with +4 dB line-level inputs.


Zoom AutoMix™
Zoom AutoMix™ takes some work off your plate, automatically adjusting the levels of your mix and helping you reduce any ambient sound. Now with this smart software, you can focus on what really matters – capturing a well-balanced mix.

TCXO Time Code
For precise audio/video syncing, the F4 utilizes a Temperature Compensated Crystal Oscillator (TCXO) that generates time code at 0.2 ppm accuracy—even when powered off! The F4 supports all standard drop frame and non-drop formats, and can jam sync to time code provided by external devices. Standard BNC connectors enable easy integration into any rig.


Advanced Look-Ahead Hybrid Limiters
Advanced Look-Ahead Hybrid Limiters add a 1 millisecond delay that enables the limiters to "look ahead" anticipating clipping before it's recorded. Limiting can be applied to each of the 6 channels simultaneously at full resolution, with 10 dB of headroom and controls for setting threshold, attack, and release.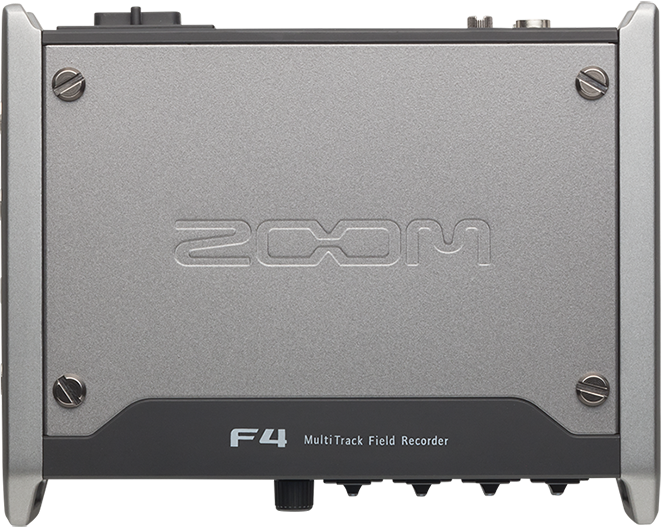 Rock-solid build and lightweight design
A compact metal chassis makes the F4 both rugged and durable, and keeps its weight down to just 2.27 pounds without batteries.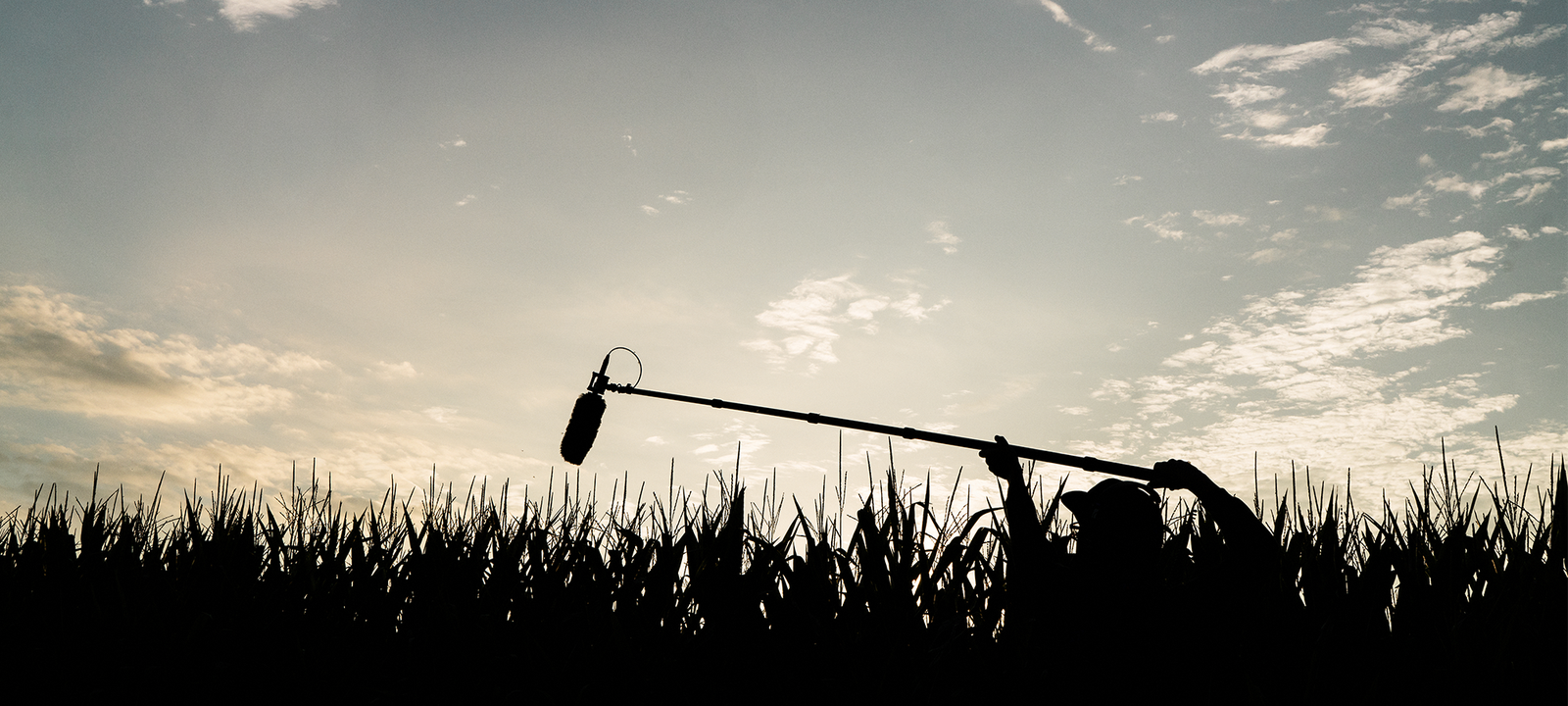 Recording Features
Multi-track recording
With four XLR/TRS combo inputs, a 3.5mm stereo input, and a Zoom mic capsule input, the F4 can record up to six discrete tracks with an additional stereo mix track—all at resolutions up to 24-bit/192 kHz.
Camera return
Input 5/6 can be used as a camera return for monitoring only. This allows you to monitor audio being sent to the camera for confidence checks.
Dual SD card recording
A dual SD card recording feature lets you record simultaneously on two SD/SDHC/SDXC cards* (up to 512 GB each). This means you can instantly back up or split recordings. For example, you can save eight tracks on one card and a stereo mix on another.
* View a list of confirmed compatible SD cards
File protection

The F4 periodically saves files while recording, providing an extra level of protection from unexpected file interruptions like power loss or sudden SD card removal.
Dual-channel recording

Dual-channel recording mode lets you create safety tracks for inputs 1 and 2, each with independent level, limiting, delay, phase inversion, and high-pass filtering.
Shortcuts
Built-in shortcuts allow easy access to important menus and features. Hold the front panel OPTION button for access to TC Jam, Trim Link, Clear Clip and other important shortcuts.
Simultaneous-Recording
The F4 can record simultaneously to an SD card and your computer via USB, so you can easily back up your files and even live stream while recording.
Three power sources

Power up your F4 with 8 AA batteries or an external DC battery pack with a converter cable connector. The F4 also includes a Zoom AD-19 power supply and a DC-HIROSE adapter which serves as a third power option.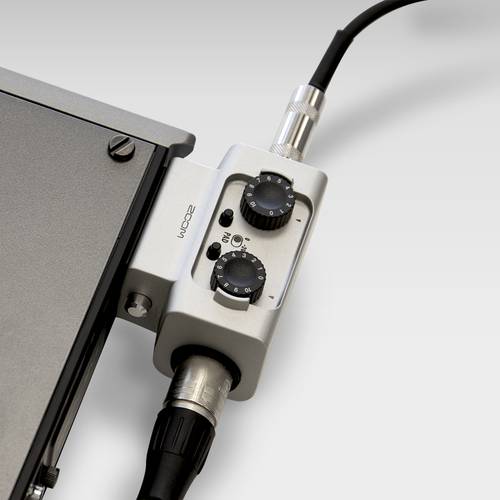 Add Two Additional Mic/Line Inputs
The F4 is outfitted with a 10-pin Zoom mic capsule input to expand your recording
capabilities even further. Connecting theoptional EXH-6 XLR/TRS Combo Input Capsule
adds two extra mic/line inputs to your F4, giving you a total of six discrete
XLR/TRS combo inputs.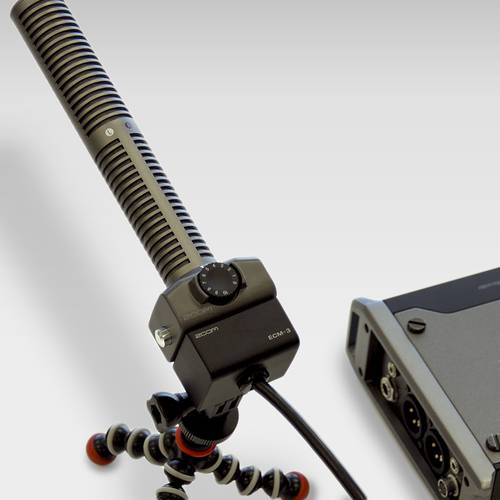 Zoom Interchangeable Mic Capsules
Use the proprietary Zoom capsule input to connect any of the available Zoom mic capsules—such as the SGH-6 Shotgun Mic Capsule or the XYH-6 Stereo X/Y Mic Capsule—to add an on-board microphone to your F4. The optional ECM extension cable allows for remote positioning of all capsules.

The Best Connections
Inputs

The F4 features four discrete inputs with locking Neutrik XLR/TRS combo connectors. Each input provides a dedicated preamp with gain control knob, phantom power, a six-segment LED level meter, and a Record Ready and PFL switch. The 1/8" stereo input or the Zoom mic capsule input can provide input for tracks 5 and 6. The F4 also includes a variable-frequency slate tone generator to confirm levels.

Outputs

In addition to the 1/4" headphone jack with dedicated volume control, the F4 provides four other outputs. Two Main Outs (on balanced XLR jacks) let you connect to external mixers and processing devices. Two Sub Outs (on a single unbalanced 1/8" stereo mini-jack) enable easy connection to a camera. The front panel OUTPUT button allows easy access to output levels and routing.
Time code and USB
 connections
Time code I/O is provided on BNC connectors. The USB port facilitates firmware updates and file transfer. It also allows the F4 to be used as a 6-in/4-out USB audio interface with sample rates up to 96 kHz.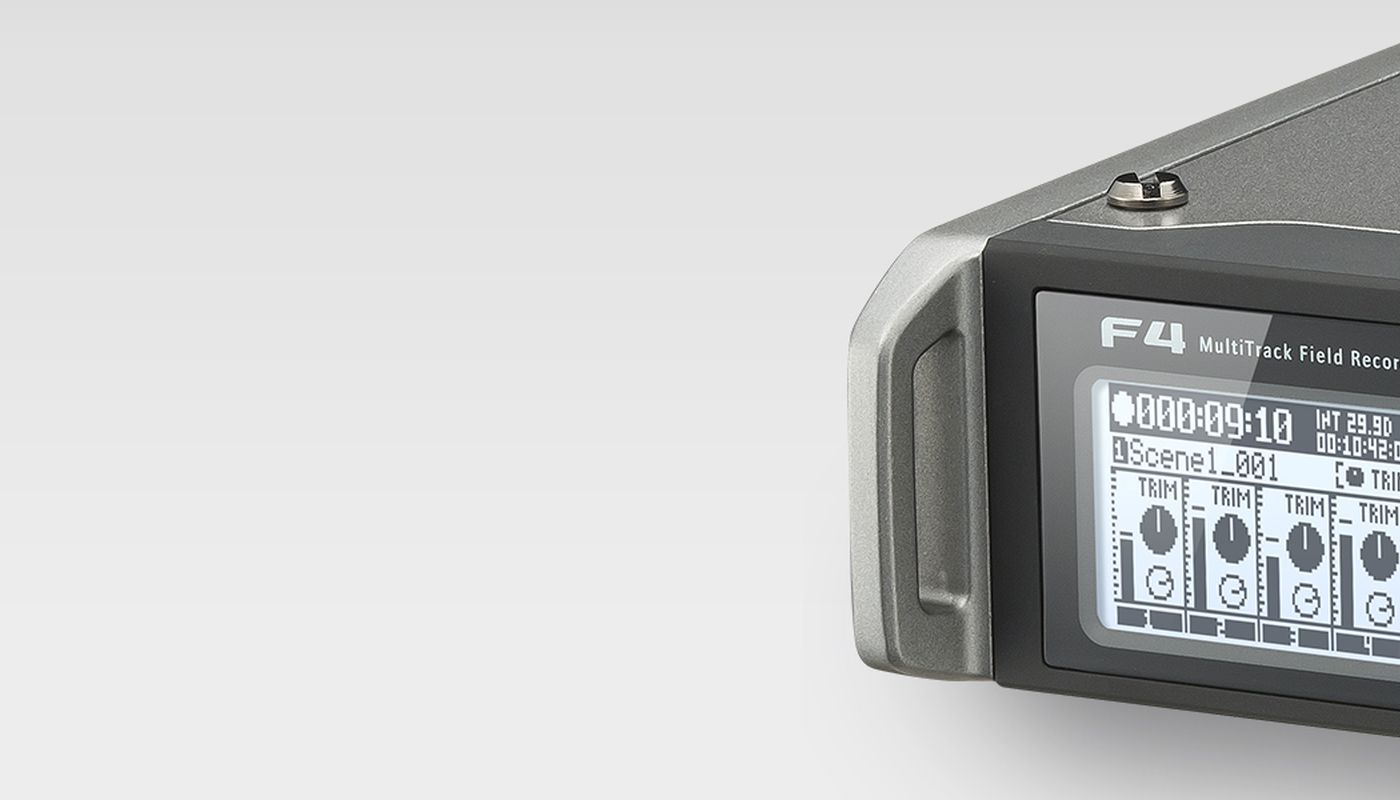 An LCD For All Lighting Conditions
An easy-to-read 1.9-inch white backlit monochromatic LCD
display makes the F4 suitable for all lighting environments— from low light to direct sunlight.
It also performs well in harsh conditions, like dusty and hard-to-see environments.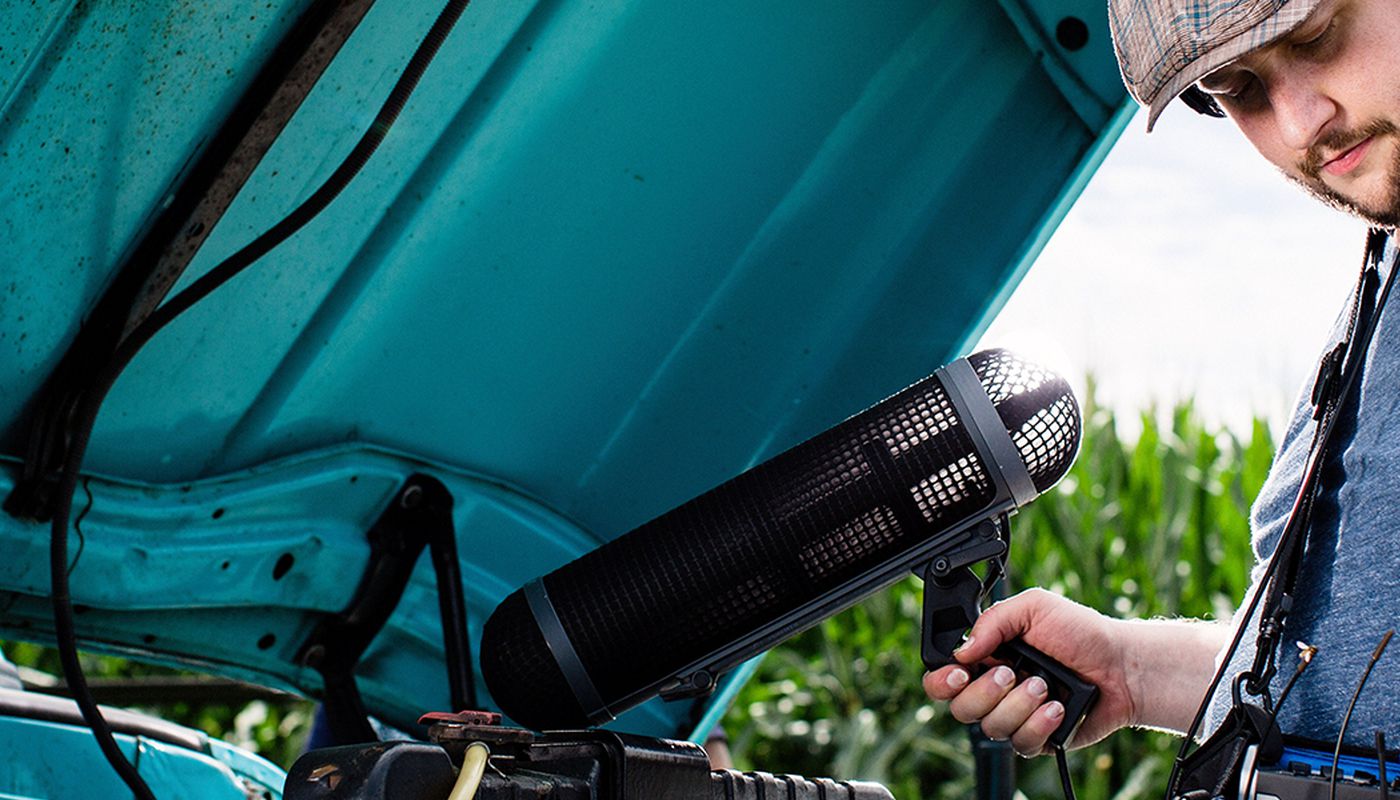 Monitor Your Recordings
Flexible options help you easily monitor recordings in the field. Route any input, as well as the stereo track (pre- or post-fader), to the left or right headphone  channels. A built-in 100 mW headphone amplifier provides plenty of volume for noisy environments. You can even set headphone alert tones for low battery, recording start/stop, or recording errors.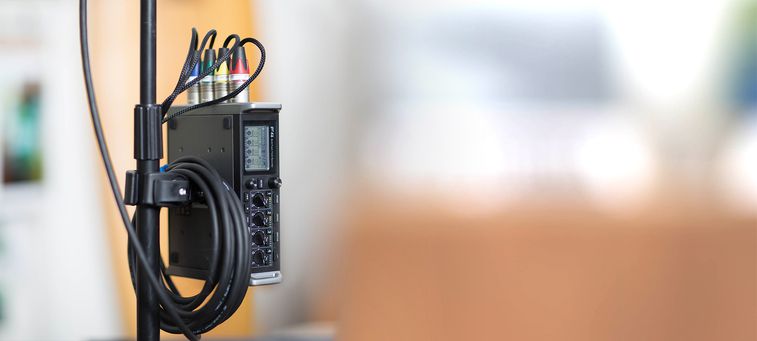 The VR Audio Dream Team
Pair your F4 with the Sennheiser AMBEO VR Microphone* for a complete VR audio production experience. With the F4's gain linking capability, you can evenly adjust the gain
on all four capsules of the AMBEO mic in one fell swoop. Lightweight, portable, and easy to mount, the F4 and AMBEO mic combination lets you capture 360-degree
audio anywhere.
See and hear how FOVRTH Studios captured 360 audio to transport you to different locations around the world:
NOTE: To experience the VR audio and video fully, we recommend Google Chrome to desktop users and the YouTube app for tablet and smartphone users.
Onboard Mixer And Effects
An onboard mixer allows for flexible signal routing from all inputs to all outputs (pre- or post-fader) with user-adjustable level, pan, and input/output delay. Built-in limiters can be applied to all channels and tracks simultaneously. The F4 also includes built-in high-pass filtering to reduce the sound of wind and other noise, plus phase inversion and Mid-Side decoding.
The Nitty Gritty
The F4 records in BWF-compatible WAV format at 16-bit or 24-bit resolution, and at any standard sample rate up to 192 kHz. When recording MP3 files, you can choose bit rates of 128, 192, or 320 kbps.
Easy to Navigate Menus and Metadata
Thanks to simple menu navigation, cataloging with the F4 is easy and straightforward. The F4 features a simple file structure and allows you to enter extensive metadata (both BWF and iXML) directly onto the device.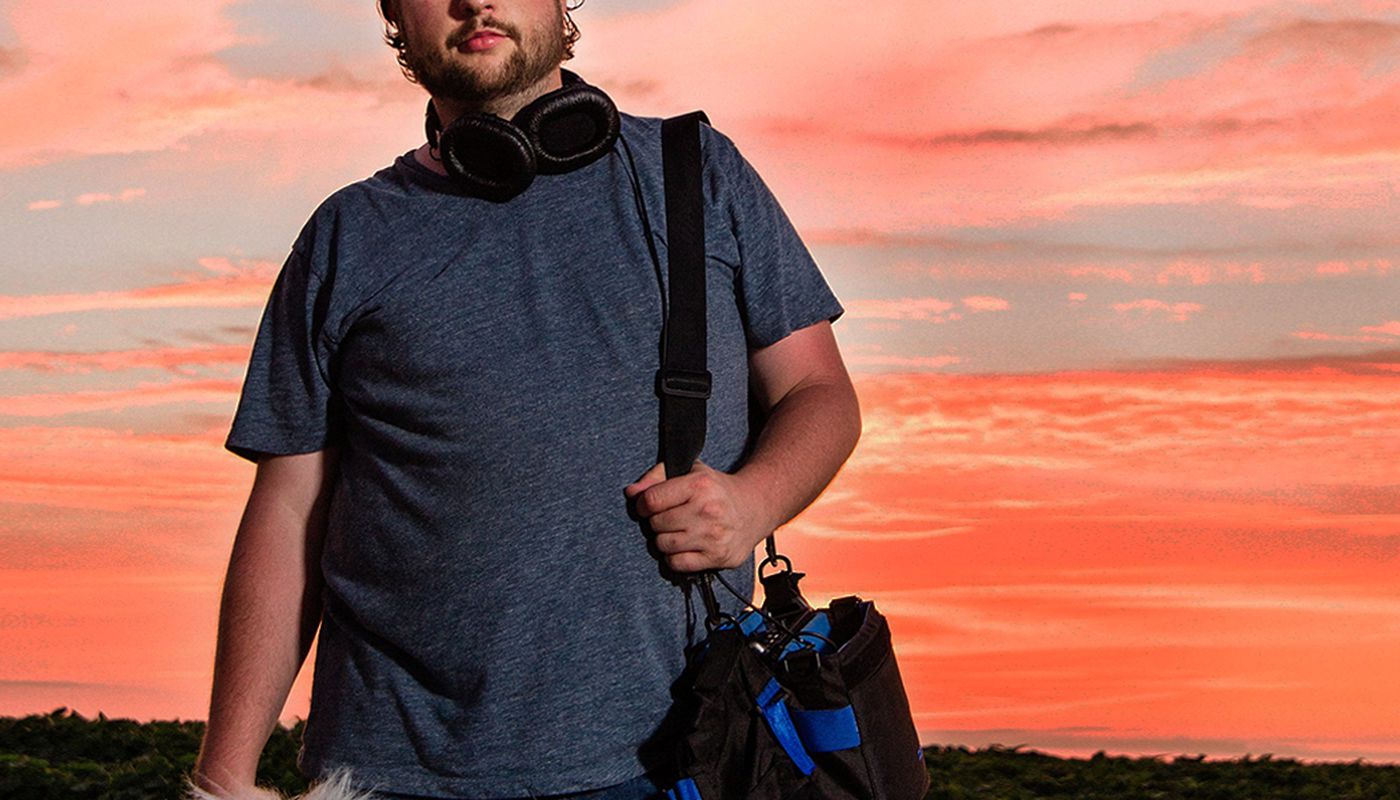 Your Time is Now
Creators are redefining what's possible in film. Let the F4 elevate your creations with professional quality audio that brings your filmmaking efforts full circle.
Accessories
What's included with the F4:
Camera mount adapter
Zoom AD-19 12V AC Adapter
DHC-1 DC-HIROSE cable
Cubase LE and WaveLab LE download codes
Operation manual
Optional F4 Accessories: