The Complete Portable Production Studio
The Zoom R24 is the ultimate solution for creators looking to make their mark on the world. It provides everything you need to make professional studio-quality recordings: a 24-track recorder, a pad sampler, a rhythm machine, a DAW control surface and a computer audio interface, all in one portable unit. It even has its own built-in stereo condenser microphones as well as 8 mic/line/instrument level inputs and a chromatic tuner. In addition, the R24 offers a hundred different ways to polish your recordings, including compression, reverb, delay, amp models and mastering effects.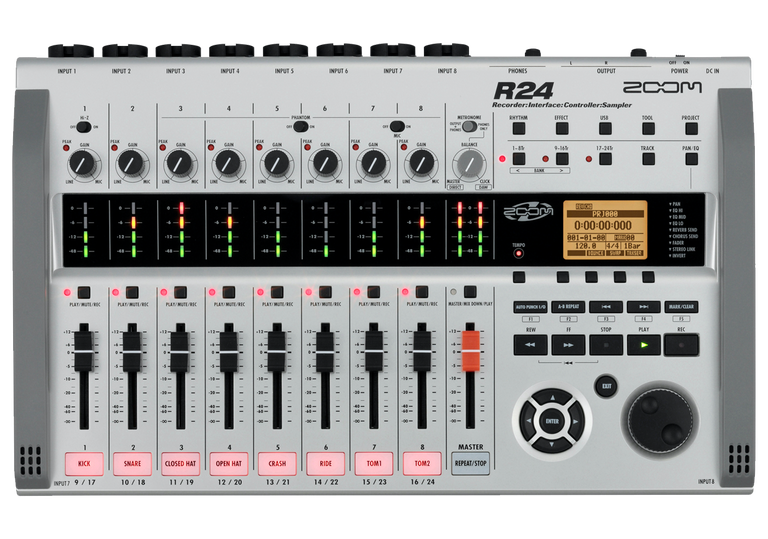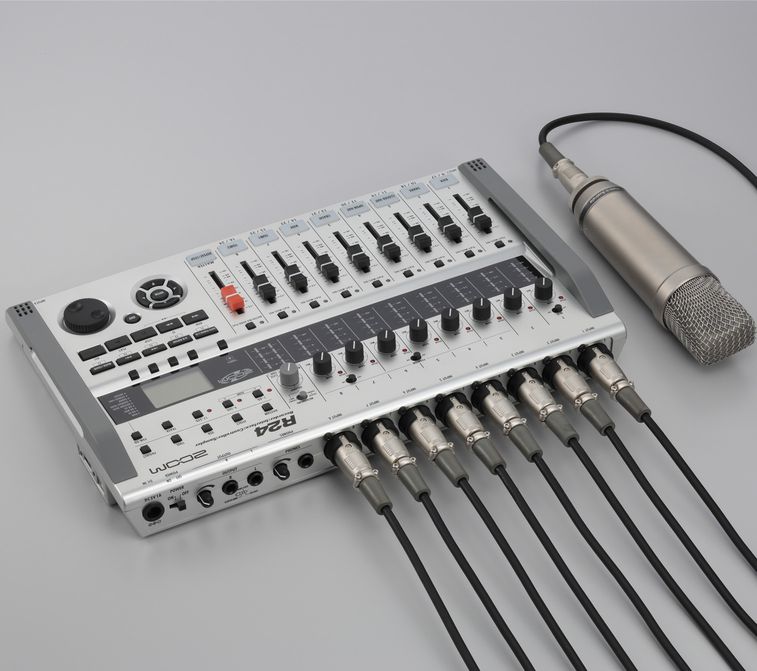 Multitrack recording has never been easier
The R24 provides 24 tracks for recording and playback (up to 8 tracks can be recorded simultaneously) in full fidelity WAV format (16 or 24-bit, at 44.1 or 48 kHz sampling rates), making it ideal for both professional production and for use as a musical sketchpad. Battery operation allows for field recording and enables you to capture your musical ideas quickly. You can connect external microphones or line-level sources directly to the R24 or use the built-in stereo mic pair for minimal setup. You can also plug instruments such as electric guitar or bass right into the R24. When your multitrack recording is complete, you can use the R24's internal mixer, complete with real faders, equalization, panning, and more than 100 built-in DSP effects—including amp models and mastering effects like multi-band compression—to create a stereo mix with studio-quality sound.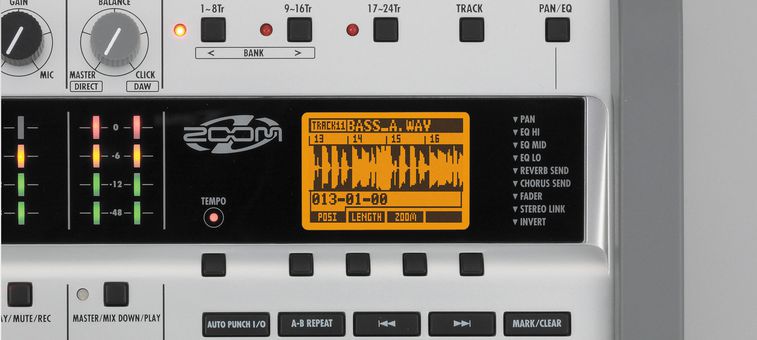 Create music any way you like
The R24 is a pad sampler and rhythm machine too. Eight velocity-sensitive pads allow the triggering of up to 24 samples, drum sounds, or loops. Over 400 internal loops and drum patterns are provided.
In addition, you can create your own custom samples and loops from recorded audio tracks. Quantization and time-stretching can be applied to ensure perfect synchronization. Three playback modes are available for each pad (Repeat, Gate, and 1Shot), and the onboard audio sequencer allows step entry of drum parts when absolute precision is required.
Best of all, the R24's multitrack recorder is fully integrated with the pad sampler and rhythm machine, allowing a wide variety of production styles to be accommodated. However you choose to build your productions, you'll find the R24 to be the ultimate creative tool.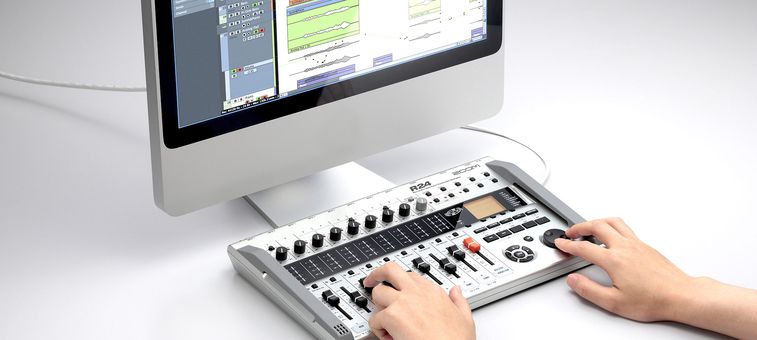 Control your DAW
If you use DAW (Digital Audio Workstation) software, you probably love mixing in the box but hate mixing with a mouse. The R24 provides the perfect solution. Mackie Control™ emulation enables it to act as a full-featured control surface for popular DAWs such as Cubase, Logic, Ableton Live, and Sonar, as well as providing an audio editing platform for video software packages such as Final Cut Pro, adding real faders and transport/autolocate/status buttons that streamline the process of creating the perfect mix. In addition, five assignable function keys allow you to set marker points and initiate advanced editing operations.
Advanced features
The R24 offers eight inputs on combo connectors that can accept either XLR or ¼" balanced or unbalanced cables. All inputs can handle mic/line/instrument level signals, and Input 1 can also handle low impedance signals from passive electric guitars and basses. Phantom power of +24 or +48 volts can be applied to up to six inputs, allowing the use of external condenser microphones. There are also dual balanced ¼" TRS output jacks and a headphone output with a dedicated volume control.

Over 100 studio-quality DSP effects are provided, including insert effects such as equalization and dynamics processing as well as send-return effects such as reverb, delay, chorus, flanging, and phasing. In addition, there are guitar amp, bass amp, and mic preamp models, as well as effects specially designed for use on vocals and stereo instruments such as electronic keyboards, plus mastering algorithms such as multi-band compression. Effects can be applied during recording and mixdown, or can be used for playback only.
A USB port allows the R24 to send and receive digital data and to act as an 8-input/2-output interface for DAWs such as the included Cubase LE. When operating at a sampling frequency of 44.1kHz, input signal can be routed through the R24's onboard DSP effects. You can even synchronize two R24s (or an R24 and an R16) via USB for 16 tracks of simultaneous recording and 48 (or 40) tracks of playback.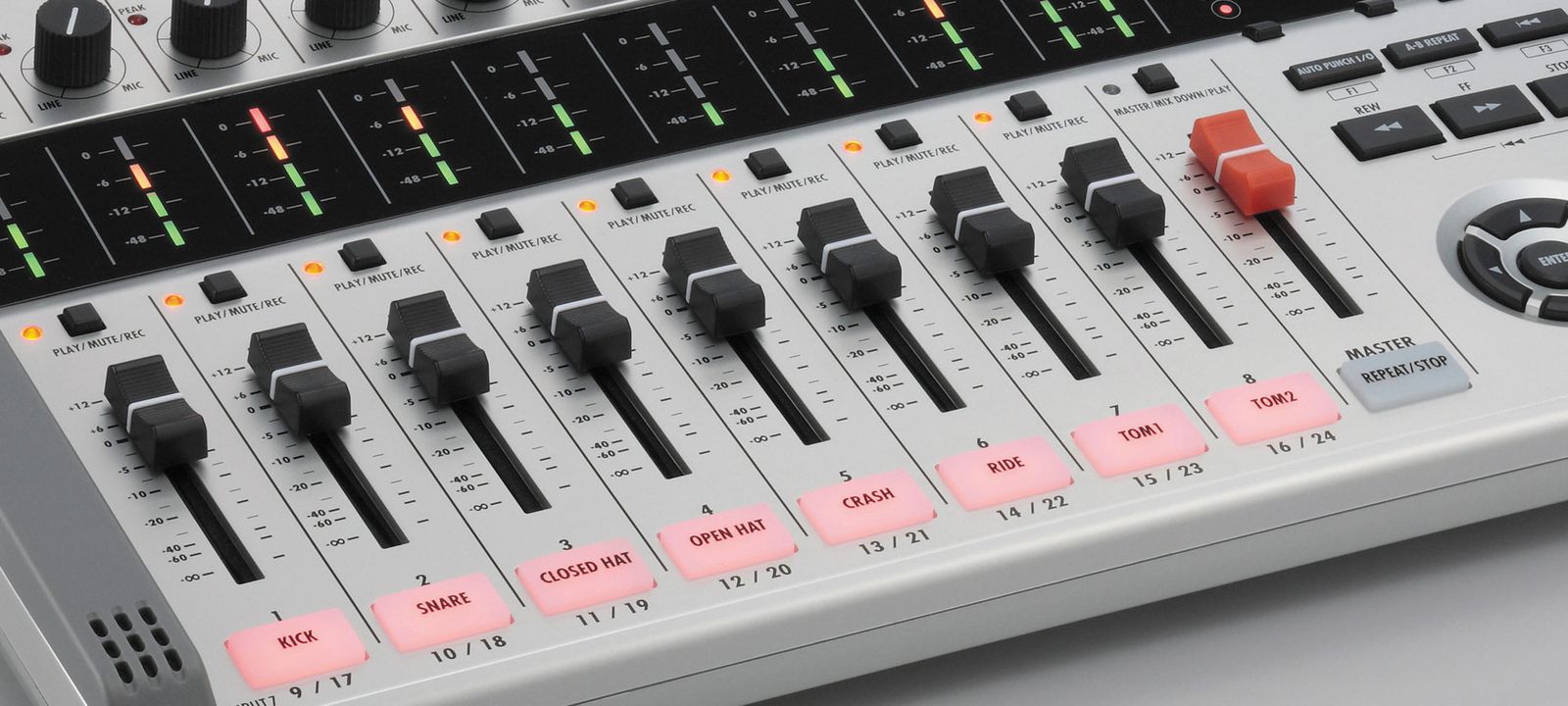 Accessories
Here's What Comes Included with the R24:
Operation manual
AC adapter (Zoom AD-14)
USB cable